White Sox boot chance for sweep of Royals
White Sox boot chance for sweep of Royals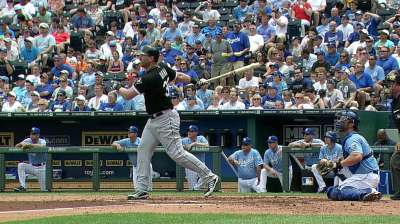 KANSAS CITY -- Two steps forward, one stumbling step back.
The White Sox were in prime position to complete a weekend sweep of the Royals on Sunday, but a nightmarish eighth inning ended reliever Jesse Crain's streak of 29 consecutive scoreless appearances and Chicago's modest two-game winning streak. The Royals rallied for three unearned runs in the eighth and escaped with a 7-6 victory as shortstop Alexei Ramirez allowed the tying and winning runs to score when an Alcides Escobar grounder went through him for an error with two outs.
In a quiet White Sox clubhouse after the game, Ramirez sat for a long time staring into his locker. He declined comment through a translator. The two-run error was the capper of an inning in which the Royals used two soft singles, a walk and two errors to prevent closer Addison Reed from coming on for a save opportunity in the ninth.
Ramirez's error was his 12th this season. Had he fielded the ball, he would have had a short throw to second for a forceout to preserve a 6-5 Chicago lead.
"That ball was hit pretty hard and this is a really hard field," second baseman Gordon Beckham said. "That ball hopped up a little bit and we weren't able to get it. But it's not for lack of trying."
Thanks to Beckham's two-run double in the seventh which snapped a 4-4 deadlock, the White Sox appeared to have everything set for a happy plane ride home. Matt Thornton delivered a scoreless seventh and Crain came on having not allowed a run since April 17.
Crain had pulled off a great escape against the Royals in a 3-2 win on Saturday. But one day later, the Royals pulled off a great escape against him.
Mike Moustakas slapped a single to left and David Lough blooped a single to right-center. Elliott Johnson laid down a sacrifice bunt and Crain -- sensing that he had a play at third -- rushed himself and wound up bobbling the ball for an error to load the bases.
Crain struck out the next two hitters, but Alex Gordon walked to force in a run. Then, Escobar hit the grounder that got through Ramirez and helped the Royals end a four-game losing streak.
"That's baseball for you," Crain said. "I don't make a bunt play and could have been out of it. And then another ball finds a way to sneak through. You've got to have a lot of luck to have a streak like that. Sometimes, you've got to battle through things and sometimes mistakes are made. By me, most importantly. It's tough because we had a chance to sweep this series."
The loss spoiled a big offensive day by Adam Dunn, who is coming on strong in the power department after a slow start. Dunn had a four-RBI day against Kansas City ace James Shields with a two-run single in the first and a two-run homer in the third. His 20th homer this season was the 426th of his career, tying him with Billy Williams for 46th place on the all-time list.
White Sox starter Dylan Axelrod couldn't protect the cushion and wound up departing after allowing 10 hits and four runs in 4 2/3 innings. Axelrod surrendered back-to-back homers to George Kottaras and Jarrod Dyson in the fifth, marking the first time all year that Kansas City has gone back-to-back.
Beckham's two-run double temporarily put the White Sox back in control, but then everything that could go wrong did for the White Sox in the eighth.
"For us to pull out that victory late in the game shows our resiliency and what we're capable of doing," Lough said.
The White Sox (31-42) will try to regain some momentum beginning on Tuesday when they open an eight-game homestand against the Mets. If manager Robin Ventura has an opportunity to hand the ball to Crain again with a two-run lead going to the eighth, he'll gladly take his chances.
"You never like to see it happen, but the guy is human," Ventura said. "He's probably one of our better fielders and he was aggressive going after the bunt. If he ends up making that play [at third], you're looking better. And if you throw it to first, in hindsight, you're probably looking better. But again, he has been great for us all year. You tip your cap to them because they came back twice."
Robert Falkoff is a contributor to MLB.com. This story was not subject to the approval of Major League Baseball or its clubs.