Royals use Sox errors to break away in finale
Royals use Sox errors to break away in finale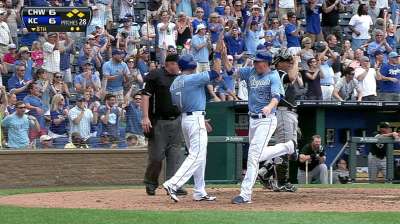 KANSAS CITY -- Four straight losses had muted the loud upsurge in their season and the Royals were looking for a break. They got two of them.
Chicago made two crucial errors to give the Royals three unearned runs in the eighth inning and a 7-6 victory over the White Sox on Sunday at Kauffman Stadium.
"It was huge. You get to this point of the year and our goal right now is to get to .500 and get past it," Royals manager Ned Yost said. "That's a two-game swing and we're going into the off-day three games under .500 compared to five games under .500."
A loss would've dropped the Royals to 34-39 and into fourth place in the American League Central. Instead they're 35-38, still third and 6 1/2 games behind leading Detroit.
Down 6-4, the Royals' comeback was launched by a rejuvenated Mike Moustakas' second single of the afternoon.
"It started out with a great two-strike at-bat by Moustakas, getting the hit to left field," Yost said.
David Lough looped a single into right field, his third hit, and Elliot Johnson put down a well-placed sacrifice bunt. Relief pitcher Jesse Crain pounced on the ball, then dropped it for the first White Sox error. The bases were loaded with no outs.
"He was planning on going to first and then, at the last second, [catcher Hector] Gimenez yelled at him to go to third and I think that messed him up," Johnson said. "I heard Gimenez yelling 'Three!' but they weren't going to make the play at third. I think that was the wrong call. I don't even know if he was going to get me at first. [The ball] kind of took a messed-up angle."
Next up were George Kottaras and Jarrod Dyson, the unlikely duo that had awakened the Royals' offense with back-to-back home runs in the fifth inning. This time, though, Crain struck out both of them and the bases remained loaded.
Would this golden chance be wasted? It was up to Alex Gordon.
"I always have confidence in Gordo, because he's been in those situations before when he came through," Dyson said.
Sure enough, Gordon drew a walk to force in a run for a 6-5 score. That brought up Alcides Escobar, who cracked a sharp bouncer to his White Sox counterpart, shortstop Alexei Ramirez. The ball went through him for an error that scored two runs and gave the Royals the lead.
"That ball was hit pretty hard and this is a really hard field," White Sox second baseman Gordon Beckham said. "That ball hopped up a little bit and we weren't able to get it. But it's not for lack of trying. "
Escobar, frankly, was surprised it wasn't scored a hit.
"I hit the ball good. It's hard to make that play," Escobar said. "But we won the game and that's the important thing."
This was not James Shields' day. The White Sox built up a 4-1 lead against the Royals' ace with Adam Dunn showing the way. An unlikely tormentor for Shields, Dunn was 1-for-15 against the right-hander previously in his career. But on Sunday, Dunn battered Shields for all four runs -- on a two-run single in the first inning and a two-run homer in the third.
Shields was pulled after throwing 97 pitches in five innings, ending a string of 29 starts in which he'd gone at least six innings.
"I just didn't have my command today, that's all. It's plain and simple," Shields said. "I got behind almost every hitter and as a result you're not going to throw deep in the game. I guess I've got to start another 29-game streak."
The home runs by Kottaras and Dyson started the Royals' fifth inning against White Sox starter Dylan Axelrod. It was the team's first back-to-back homers this season,
"Kottaras can hit a homer. Dice surprises you a little bit but for a little guy he's strong and has a lot of pop. That definitely energized us," Yost said.
Dyson also singled and scored the Royals' first run. It was his first start since returning from Triple-A Omaha, where he hit a dismal .137 on an injury rehab assignment.
"I left my bad bat down in Omaha," Dyson said.
Anyway, those home runs to right field plus Escobar's double and Billy Butler's RBI single produced a three-run inning. That tied the score at 4 and eliminated any sort of decision for Shields, who remained 2-6 with a 2.92 ERA.
"You can't get down when it's early in a game and you're losing," Kottaras said. "It's a long game and you've got to keep having good at-bats. The pitchers kept us in the game. Even though James didn't have his good stuff today, he kept us in the game the whole way, so that shows a lot."
Reliever J.C. Gutierrez threw a scoreless sixth, but the White Sox broke the tie with two runs in the seventh against Tim Collins and Kelvin Herrera. Beckham pounded a two-run double off Herrera to put the White Sox ahead, 6-4.
Luke Hochevar worked a scoreless eighth and got the first victory of his career as a relief pitcher. Greg Holland fired a perfect ninth with two strikeouts for his 16th save, matching his total of last season.
"Holland was lights out, holy cow," Johnson said.
It was the Royals' 24th comeback victory this season.
"They've had a habit of coming from behind to win baseball games and today was more of the same," Yost said.
Dick Kaegel is a reporter for MLB.com. This story was not subject to the approval of Major League Baseball or its clubs.