Reimold knocking off rust in rehab assignment
Reimold knocking off rust in rehab assignment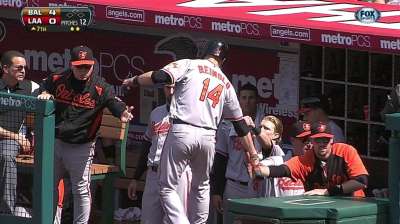 TORONTO -- Nolan Reimold will play in his sixth consecutive game for Double-A Bowie on Sunday, as the outfielder works his way back from a right hamstring strain.
The 29-year-old has struggled at Bowie, beginning his rehab assignment by going 1-for-17 with seven strikeouts entering Sunday's contest. But manager Buck Showalter said if he doesn't encounter any setbacks, Reimold could continue his rehab at Triple-A Norfolk as early as this upcoming week.
"He's a little rusty, but he's getting there," Showalter said. "His leg feels good ... [but] he's not ready yet."
Showalter put no timetable on when Reimold could rejoin the Orioles, but figures it could be sometime before the All-Star break.
Reimold is batting .188 with four homers and nine RBIs in 31 games with the Orioles this season.
Chris Toman is a contributor to MLB.com. This story was not subject to the approval of Major League Baseball or its clubs.