Lyles hit hard, defense sloppy in loss to Cubs
Lyles hit hard, defense sloppy in loss to Cubs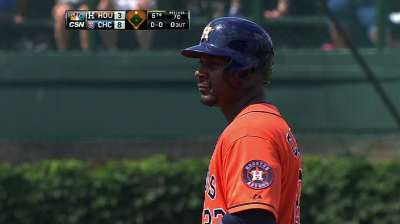 CHICAGO -- Before the Astros' series finale in Chicago, manager Bo Porter said Sunday's starting pitcher, 22-year-old Jordan Lyles, had "graduated" weeks ago. He pointed to the starter's renewed confidence in his stuff to explain how the young right-hander had snuck up on the Majors so quickly.
It turns out Lyles' classmates are still struggling to pass. The Astros made two costly fielding errors, but also mishandled a few balls that were ruled as hits in a 14-6 loss to the Cubs on Sunday at Wrigley Field.
"We didn't play fundamentally sound baseball," Porter said. "When you don't catch the ball, you increase the other team's chances of scoring runs. Give the Cubs credit, they took advantage of our miscues and put up a lot of crooked numbers."
Eight of the Cubs' 12 runs were charged to Lyles -- though only five were earned -- who only lasted five innings after he'd been stellar in his first four starts in June. He entered play on Sunday 2-0 with a 1.69 ERA in the month and held the second-lowest ERA in the Majors (1.61) since May 17. But routine plays became troublesome for the Astros' defense and Lyles was forced to continue through extended innings with runners on base.
"Guys make errors, but then again I make errors all the time," Lyles said. "I put balls over the plate and balls get hit hard at guys and they pick me up. I need to do a better job of picking them up when things don't go our way. Overall, I definitely have to do a better job of pitching out of those jams."
Porter said he thought Lyles handled the botched plays well and was proud of his pitcher for not appearing visibly frustrated. The eight runs against him tied a season high and the five-inning outing was his shortest start since May 17 at Pittsburgh.
"I think we got him to throw a lot of pitches and his velocity started to go down from 94-95, to 90-91, so that's a huge advantage for us to get a guy," Cubs outfielder Ryan Sweeney said. "Coming in, the scouting report said he threw 50, 60 percent fastballs and today he was throwing a lot of offspeed stuff. I felt we made him get away from his strength of the heater and made him throw more offspeed stuff."
The ugly fielding behind Lyles started in the second inning, when Astros rookie outfielder Marc Krauss -- making the first start of his career -- misfired on a throw to second on Chicago slugger Anthony Rizzo's double. Rizzo trotted to third with no outs and eventually scored the Cubs' first run of the game.
The sloppiness continued into the bottom of the third in an inning where the Cubs could have potentially batted around if not for an Astros' fielding miscue. With no outs, Houston shortstop Marwin Gonzalez mishandled a simple double-play ball hit by Luis Valbuena with Cubs starter Jeff Samardzija on first. Lyles then walked Starlin Castro and hot-hitting outfielder Nate Schierholtz made Lyles pay with a two-run single.
Later in the inning, Gonzalez actually helped the Astros' cause by misplaying a Darwin Barney ground ball to short, throwing off the Cubs' timing on the basepaths enough that he gunned down Sweeney as he headed home.
Porter said he'd never expect his team to play error-free baseball, but the Astros' mistakes on Sunday were compounded by runs, which made them glaring. Houston had started to play better fundamental baseball over the past month with the exception of the last two games in Kansas City on June 8 and 9, when it combined for four errors.
"Errors are a part of baseball, but at the same time you don't like to see them in bunches and you want to make the plays when the ball is hit to you," Porter said. "At the end of the day, you have to catch the baseball."
Houston followed the Cubs' big third inning by scoring three runs in the top of the fourth on a pair of doubles by catcher Jason Castro and first baseman Chris Carter. The third run came on a careless play by Chicago, when Castro's throwing error allowed Carter to score. But in the end, the fielding mistakes proved more costly for the Astros.
Houston couldn't muster much more off Samardzija, despite tallying nine hits off the right-hander. Astros third baseman Matt Dominguez knocked in Carter after the first baseman doubled to lead off the sixth inning, but the Cubs' big three-run fifth inning put the game out of reach. Samardzija was charged with three earned runs over seven innings before he was replaced by James Russell in the eighth.
Carter was one of the few bright spots for the Astros on Sunday. He finished 4-for-5 with three doubles and went 7-for-13 in the series. The four hits tied a career high for Carter, and he became just the eighth Astro in team history to record four hits and three doubles in one game. He's the first since Mike Lamb did so on June 24, 2006. Porter was especially complimentary of how his first baseman focused on driving the ball the other way.
"I told [Astros hitting coach] John Mallee, I leaned over and said 'You're doing a great job,'" Porter said. "He said: 'No, Bo, Chris is really buying in. He's down in the cage. He's on the video. He's really putting a lot of effort into it.' Now, he's starting to see all the results."
By then, the Cubs had already nicked Astros reliever Wade LeBlanc for four more runs in the bottom of the seventh. Sweeney hit a three-run home run off the left-hander, giving him six RBIs on the day, and Krauss misplayed another fly ball, granted a tough one near the ivy, on a ball that turned into a Valbuena RBI triple.
"It makes [the game] feel longer," Carter said. "Things happen like that. Mistakes happen, you just have to roll with them."
The Astros entered play on Sunday with a 14-10 record in their last 24 games, a relative accomplishment for a young team. But this weekend's series against the Cubs, a battle of two of the four worst teams by record in the Majors, highlighted some of the Astros' glaring issues that come with inexperience.
Houston had four fielding errors in the final two games of the series, and on Sunday it was enough to force Lyles to work outside his comfort zone.
"I was frustrated. We gave up 14 today. It's nothing to be happy about," Lyles said. "The more quality pitches, the less likely other things happen."
Ethan Asofsky is an associate reporter for MLB.com. This story was not subject to the approval of Major League Baseball or its clubs.