Girardi sticks with the hot hand of Almonte
Girardi sticks with the hot hand of Almonte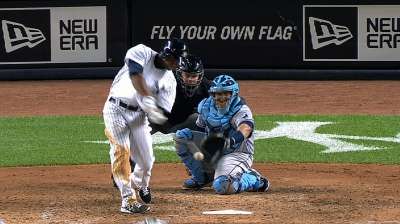 NEW YORK -- On Sunday, for the third straight game, Vernon Wells was out of the starting lineup, his spot taken by rookie phenom Zoilo Almonte.
Even after smacking a bases-clearing ground-rule double to give New York a two-run lead in the seventh inning of its 7-5 win over the Rays on Saturday, Wells began Sunday's game on the bench as the Yankees faced the right-handed Chris Archer.
Wells' splits make the decision obvious. He bats .181 with a .233 slugging percentage against righties, but those numbers bump to .283 and .424, respectively, against left-handers. So as long as Almonte keeps hitting, he's the better option against righties, but Wells will get his cuts -- especially against lefties.
"We're going to be in a long stretch here coming up, so everyone's going to have to play," manager Joe Girardi said. "I don't ever pin myself in -- I try not to, at least -- and I'll manage it day to day and see how the guys are doing. Sometimes you ride a hot hand -- that's what you do in this game -- and we'll evaluate another day."
For now, Almonte is as hot a hand as there is in baseball. He's gone 5-for-8 since being called up, with one home run and one walk.
What stood out to Girardi has been Almonte's discipline at the plate. He smacked a two-out, two-run single in the third inning on Saturday and drew a bases-loaded walk in the fifth.
"[Drawing a] bases-loaded walk is not always easy for a young kid to do," Girardi said. "We were having trouble scoring runs yesterday, we had some opportunities we weren't able to cash in early -- his discipline there was very good."
Chris Iseman and David Wilson are associate reporters for MLB.com. This story was not subject to the approval of Major League Baseball or its clubs.