Nova starts strong, but ends with loss to Rays
Nova starts strong, but ends with loss to Rays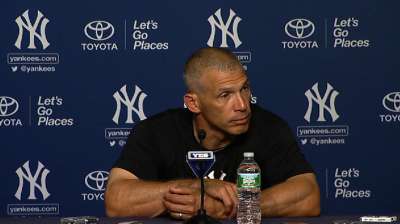 NEW YORK -- When the Yankees made the decision to send Ivan Nova to Triple-A Scranton at the end of May, it was a complex decision. In some ways it was part of a numbers game. None of New York's five starters has pitched particularly poorly this season, and manager Joe Girardi didn't want Nova to sit around in the bullpen as a long reliever.
But in other ways, he'd pitched himself there, posting a 5.16 ERA in six games. He had to work on his fastball command down in the zone and become more consistent, and he did just that in the Yanks' 3-1 loss to the Rays.
Nova joined the club on Sunday to face Tampa Bay as a spot starter first and foremost, but also with a chance to open eyes in New York as to what he's capable of doing.
"He's got very good stuff," Girardi said. "It's the consistency of his pitches that makes the difference, and you saw it today, what he's capable of doing."
For much of 6 2/3 innings, he was spectacular. Aided by a sweeping curveball that made Tampa Bay's hitters seem foolish, he pitched into the seventh for the first time this year having allowed just one run.
In that frame, though, some of his problems resurfaced. He struggled with his command and plunked Desmond Jennings and Ben Zobrist back-to-back with two outs. The relievers that tried to bail him out could not do so, and the Yankees conceded the decisive pair of runs.
"The first fastball came off a little bit from my fingers and hit [Jennings]," Nova said. "I tried to go away. But the curveball, I tried to do too much with it. I was trying to do it perfect.
"It cost me the two runs."
With his fastball buzzing at around 94 mph, Nova found himself in trouble early. A one-out single by Zobrist plated Matt Joyce in the top of the first, and a walk to Evan Longoria gave the Rays runners on first and second with one out, but James Loney to chopped the next pitch right back to the mound for an easy double play.
Nova turned to his curveball to carry him through the rest of his outing, fooling Wil Myers and Kelly Johnson with it to start the second. He got Longoria with a similar curveball in the third and worked around a walk and a single to strike out the side in the fifth with that curveball.
"I have a lot of confidence [that] I can throw it at any time," he said of the pitch. "The first inning I was a little bit excited to be back here. After that, I think, all my pitches get better."
Nova worked out of a bases-loaded jam in the sixth, but the hole he dug himself into in the seventh proved costly.
He got two quick outs, then hit Jennings and Zobrist. His day was over, and his replacements couldn't save him. Loney ripped a bases-loaded single off Boone Logan to plate the go-ahead runs. And with Tampa Bay's Chris Archer delivering an equally good performance, the two-run deficit was too much to overcome.
New York scored on Robinson Cano's sacrifice fly in the first inning but advanced a runner to second base only three more times. A fourth-inning double from Zoilo Almonte gave New York a runner in scoring position with one out, but David Adams grounded into a 5-4-3 double play to waste a precious opportunity.
Almonte added a two-out double in the sixth, but again New York couldn't drive him in, as Archer induced a fly ball from Jayson Nix to end the inning.
"[Archer] was throwing everything pretty well, but especially his curve at the end," Almonte said through an interpreter. "Everything was working for him."
Even in a loss, though, Nova opened eyes, including those of Rays manager Joe Maddon.
"I don't know how this guy struggles, because I've never seen a bad Nova," Maddon said. "He's one of the best pitchers in the world as far as I'm concerned."
But the outing was more important to Nova than anyone else. Yes, it showed New York what he's capable of when firing on all cylinders, but it meant more for his own psyche.
Nova was candid about his time in Scranton -- "It was bad" -- because he doesn't want to be there. He thinks his place is with the Yankees, and on Sunday he proved, at least to himself, that he belongs.
"I opened my eyes," he said. "That will get me a little more confident in myself, and that's very good. The decision that they make, I don't have no control about that. I'm just happy with the way I threw the ball."
David Wilson is an associate reporter for MLB.com. This story was not subject to the approval of Major League Baseball or its clubs.