Arenado working on maintaining energy level
Arenado working on maintaining energy level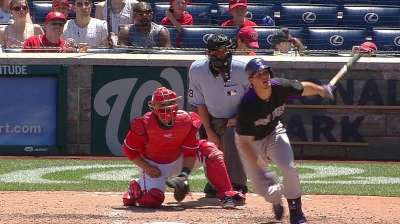 WASHINGTON -- Rockies rookie third baseman Nolan Arenado has brought limitless energy since joining the club on April 28.
Arenado, 22, has appeared in every game and started all but two games since joining the club.
"I like playing every day," Arenado said. "It's what I want. It's the only way you're going to feel comfortable at the plate and in the infield. It's going to help me to see a lot of pitches. I love playing every day. It's what I enjoy."
There have been successes. Arenado has made enough highlight-level plays to be considered a serious candidate for a Rawlings Gold Glove Award. If it happens, he would be the first rookie third baseman to do so.
Offensive consistency has been a challenge. Arenado entered Sunday hitting .252 with six home runs and 21 RBIs. His homer Saturday off the Nationals' Ross Ohlendorf in the eighth inning of a 7-1 victory was his first since June 7.
His strategy for keeping up his defense and improving his offense does not involve sitting and observing.
"Nolan doesn't like days off," Rockies manager Walt Weiss said. "I try to give him one here and there, but it's been a while. He's wound too tight. He doesn't like to sit over here for nine innings. He's a guy I've got to pick my spots with so he doesn't play himself into the ground, but he likes to play every day.
"There's a lot of youthful energy. He loves to play the game. Even when he's struggling, he wants to grind his way through it. He's not that guy that wants to sit on the side and figure things out. The way he plays third base, it's tough to take him out of there."
To maintain his energy, Arenado said he has improved his eating -- something brought to his attention by Rockies strength and conditioning coach Brian Jordan.
"I feel good with my body, and lately I've been trying to keep up with the right foods and get as much sleep as I can, but it's tough," Arenado said. "I rest as much as I can, ice bath as much as I can, and get ready.
"I'm eating a lot of egg whites, proteins and vegetables. Earlier, I was eating a lot of junk food. But I'm making sure I feel good. Me and B.J. were talking about my energy level. It's good because I want to play every day."
Thomas Harding is a reporter for MLB.com. Read his blog, Hardball in the Rockies, and follow him on Twitter @harding_at_mlb. This story was not subject to the approval of Major League Baseball or its clubs.