Detwiler's early trouble too much for Nats vs. Rox
Detwiler's early trouble too much for Nats vs. Rox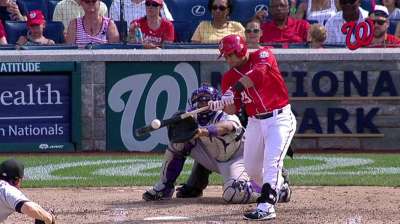 WASHINGTON -- Left-hander Ross Detwiler had his worst outing of the season, putting the Nationals in too deep a hole as the Rockies held on for a 7-6 win at Nationals Park on Sunday afternoon. The two teams split the four-game series, while the Nationals dropped a game under .500 with a 37-38 record. A year ago, the Nationals were 44-31 after 75 games.
What made the day even worse was that Washington had to place right-hander Dan Haren on the 15-day disabled list because of shoulder issues, and outfielder Jayson Werth had to leave the game because of a left groin injury. It's not known if he will go on the disabled list.
The Rockies scored early and often against Detwiler. It started in the second inning, when Michael Cuddyer homered over the right-center-field wall to make it a 1-0 game and extend his hitting streak to career-best 21 games.
"The last two days [including Saturday's 7-1 victory], it was nice to be able to jump out early and continue to put the pressure on and continue to score runs," Cuddyer said.
The Rockies added three more runs an inning later. D.J. LeMahieu, Cuddyer and Wilin Rosario had RBI singles. By the fourth inning, it was 7-0 in favor of the Rockies. Nolan Arenado and Cuddyer highlighted the scoring with a solo home run and single to drive in two runs, respectively. Right-hander Craig Stammen was on the mound when Cuddyer drove in the two runs, which were charged to Detwiler.
When it was over, Detwiler saw his ERA rise to 4.18. In April, Detwiler was establishing himself as one of the best pitchers on the Nationals after he allowed four runs in 26 innings in his first four starts.
Is there a reason to be concerned about Detwiler? According to manager Davey Johnson, Detwiler has to learn to use all of his pitches. He relies too much on his fastball.
"He is very young and learning how to use all of his weapons in his arsenal. Today, he didn't feel like he had a good sinker and couldn't locate it real good. So he threw more changeups," Johnson said. "But it's sequence pitching. He has been relying basically on his fastball. [The Rockies] are a good fastball-hitting club. You don't hit your spots … they are going to hurt you."
Detwiler disagreed with Johnson and didn't think he had that bad of an outing.
"They didn't hit the ball that hard today," Detwiler said. "There were two hard-hit balls and everything else just fell in. You saw it. When Stammen came in, he threw a good 0-2 pitch and broke the guy's bat -- two RBIs. It's just one of those days."
The Nationals were able to get on the scoreboard in the bottom of the fourth inning against left-hander Jorge De La Rosa. They had runners on second and third with one out when Chris Marrero grounded out to LeMahieu at second base, scoring Roger Bernadina, who replaced Werth in the game. Ian Desmond scored the second run of the game on a sacrifice fly by Kurt Suzuki.
De La Rosa lasted six innings and allowed the two runs on seven hits.
Ryan Zimmerman's two-out RBI infield single with the bases loaded in the eighth resulted in two runs after Rockies shortstop Josh Rutledge's fielding error allowed a second run to score, and pinch-hitter Jhonatan Solano made it a one-run game with a double to the gap in left-center off reliever Rex Brothers. Solano said he was trying to be aggressive during the at-bat.
"Men in scoring position in that situation, you have to make good contact. Whatever happens, happens," Solano said. "I was blessed that I was able to get a double and two RBIs."
Brothers recovered to get Desmond on a strikeout, and the Nats were unable to complete the rally against the Colorado lefty in the ninth.
"It was a good effort coming back a little bit and scoring some runs right there, which we have been doing a lot more lately," Zimmerman said. "It's a step in the right direction. We split a four-game series against a pretty good team. That's not too bad. We'll have a day off. We'll come back against another really good team [the D-backs] and we'll try to get going again."
Bill Ladson is a reporter for MLB.com and writes an MLBlog, All Nats All the time. He also could be found on Twitter @WashingNats. This story was not subject to the approval of Major League Baseball or its clubs.