Cuddyer's bat leads way as Rockies top Nats in DC
Cuddyer's bat leads way as Rockies top Nats in DC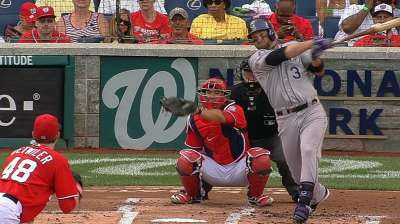 WASHINGTON -- Bats were loud. But the lasting sound from the Rockies' 7-6 victory over the Nationals on Sunday afternoon might have been the hollow clank of wood and the smash of plastic, each hitting the ground.
Nationals shortstop Ian Desmond threw first his bat then his helmet in frustration after Rockies pitcher Jorge De La Rosa (8-4) enticed him to swing at an up-and-away pitch for a strikeout to end the fifth inning with two on, and take away a possible threat.
De La Rosa went six innings and gave up two runs on seven hits while winning for the sixth time in his last seven decisions, aided in large part by the hot bat of Michael Cuddyer, who drove in four runs and extended his career-best hitting streak to 21 games -- longest in the Majors this season. In the end, the Rockies endured a four-run Nationals eighth.
The outing actually was painful for De La Rosa. A bruised thumb he suffered in his last outing, when he gave up one hit in seven scoreless innings but had a no-decision against the Blue Jays on Monday night, made simply gripping the ball painful. The thumb issue came after two starts of being affected by a cut on his middle finger.
"I didn't have the command that I wanted, but I made the pitches I needed," De La Rosa said. "I usually use my breaking ball, but [Sunday] I used my fastball, my two-seamer, and it worked."
De La Rosa is part of a rapidly improving starting rotation.
De La Rosa, Jhoulys Chacin (1.42 ERA in is last three starts) and Tyler Chatwood (2.22 ERA in eight starts) each have strung together good outings, and the addition of longtime star Roy Oswalt has given the Rockies a chance at a rotation that could be seen as a plus in the team's effort to remain in contention in the National League West.
"He had to work hard, and there was some fatigue in the sixth, but he did a nice job keeping them in check," Rockies manager Walt Weiss said.
The Rockies have two games -- at Boston Tuesday and Wednesday -- left on a road trip that started with five straight losses, but their pitching and a surge of offense brought them wins in their final two games with the Nats. The Rockies, who climbed back above .500 (39-38), are now three games back of the NL West-leading D-backs.
By gaining a split of the four-game set at Nationals Park -- where 39,307 witnessed Sunday's contest - the Rockies continued their run of not losing a series at the park since it opened in 2008.
The Rockies gave De La Rosa a comfortable lead by scoring seven runs on nine hits off Nationals starter Ross Detwiler (2-6).
"The last two days [including Saturday's 7-1 victory], it was nice to be able to jump out early and continue to put the pressure on and continue to score runs," Cuddyer said.
Detwiler said his numbers didn't reflect his outing.
"They didn't hit the ball that hard today," Detwiler said. "There were two hard-hit balls and everything else just fell in. You saw it."
Cuddyer's 11th home run of the season, in the second inning, extended his hit streak, as well as his club-record string for reaching base went to 40 games. Cuddyer had three hits as part of his four-RBI day.
Nolan Arenado parked his seventh homer of the season and second in the last two games, but afterward praised Cuddyer.
"I knew he had that streak, but you can't tell with him because he acts the same, no matter what," Arenado said.
Even De La Rosa, usually futile with the bat, contributed offensively with a hit and a run scored during the three-run fourth. De La Rosa had struck out on a bunt attempt earlier, a common occurrence, and even with the hit his batting average sits at .077.
What looked like a rout became close when the Nationals scored four runs -- all charged to Matt Belisle -- on four hits, a walk and some hairy Rockies defense in the eighth. The rally occurred after the Rockies removed star left fielder Carlos Gonzalez with cramping in his left calf. The issue is not considered serious.
One of the hits was an infield hit as Belisle couldn't make the play on Steve Lombardozzi's chopper. With two outs and the bases loaded, two runs scored when shortstop Josh Rutledge couldn't field Ryan Zimmerman's roller to the middle -- a play ruled an RBI single and an error. Rex Brothers replaced him.
Belisle has given up 10 runs in his last six appearances, covering 5 2/3 innings. Luck was bad Sunday, but Belisle also has not been sharp. Belisle, whose 236 appearances since 2010 are the most of any Major League pitcher, insists he isn't pitching through injury.
"The bottom line is we go home winning," Belisle said. "I always break down the negatives with the positives. I wasn't quite right or we would've had zeros on the board. I don't like how I pitched."
Brothers gave up a two-run double by Jhonatan Solano upon entering with two outs in the eighth, then fanned Desmond. Brothers pitched an uneventful ninth his fourth save, his first of the four-out variety since stepping in for injured closer Rafael Betancourt.
"I realized I made a bad pitch [to Solano] very quick when I saw it flying in the gap, but I put that behind me and tried to get right back on top of it," said Brothers, extended his scoreless streak to 31 outings covering 29 innings.
Thomas Harding is a reporter for MLB.com. Read his blog, Hardball in the Rockies, and follow him on Twitter @harding_at_mlb. This story was not subject to the approval of Major League Baseball or its clubs.