Franklin caps Mariners' rally after Ibanez's big blast
Franklin caps Mariners' rally after Ibanez's big blast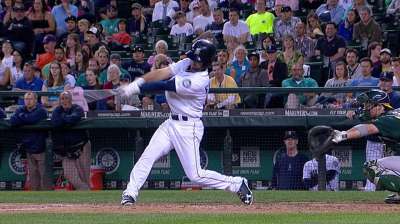 SEATTLE -- Rookie second baseman Nick Franklin has been in the Majors for only four weeks, but the Mariners are quickly learning that the youngster has a little something special to offer.
Franklin, 22, went 3-for-5 with a double and three RBIs on Saturday night and drove in the winning runs in a 7-5 comeback victory over the A's as Seattle snapped a three-game losing streak.
"I just think you're a better baseball player when you play with no fear and that's what we've seen from him so far," manager Eric Wedge said after Franklin's two-run single in the bottom of the eighth broke a 5-5 tie.
Franklin, hitting .295 with 13 RBIs in his first 25 games, helped the Mariners improve to 2-32 in games where they've trailed after six innings this season -- after Raul Ibanez knotted things up with a three-run homer in the seventh.
"It's most important when the situations do arise to stay relaxed and not try to put too much pressure on yourself and force things to happen," said Franklin, who was born the year Ibanez was a senior in high school. "Your adrenaline gets going a little bit, I'm not going to lie. But at the same time, you just have to take a few deep breaths, just relax from the get-go and know everything is going to be all right and not worry about the outcome."
Ibanez has been singing Franklin's praises since his arrival and was happy to do so again after the rookie's first game-winning hit of his career.
"Just more proof," Ibanez said. "He's got a great approach at the plate, doesn't try to do too much and has a really good eye. He's a very disciplined hitter."
Brendan Ryan singled leading off the bottom of the eighth, took second on a wild pitch and moved to third when Endy Chavez singled on a perfectly placed bunt. After the A's allowed Chavez to take second without a throw, Franklin singled to center off reliever Ryan Cook for the go-ahead runs.
Ibanez tied the game with a three-run blast off A's lefty Jerry Blevins in the seventh inning, his 15th home run of the season, as the 41-year-old took over the team lead in RBIs with 39.
"That's why you like him up there against righties or lefties," Wedge said. "He might not have the best average against lefties, but he does damage and he does damage at the right time, and you've seen that happen multiple times. That was a huge lift for us to get us right back in the ballgame."
Blevins said the 0-1 curve Ibanez belted wasn't a bad pitch.
"I'm more upset about the walk to bring the tying run to the plate," Blevins said. "That's something you don't do. As for the home run, he's a professional hitter and has done it his whole career and was better than me today. It was a little bit more middle than I wanted, but it wasn't a bad pitch. He just hit it well."
Center fielder Franklin Gutierrez also supplied some offensive punch in his initial game off the disabled list as he homered in his first at-bat and later doubled on a 2-for-4 night.
"I was excited because we won the game today, and I was able to play and help my team," Gutierrez said. "It's important to win these games because we're playing teams in our division. It was a really good game today."
Rookie right-hander Yoervis Medina pitched the final 2 1/3 innings to get the victory, the second of his Major League career.
The win improved Seattle to 33-43, while leaving the A's in a tie with Texas atop the American League West at 44-33.
Mariners starter Aaron Harang wound up with a no-decision after going five innings with six hits and three runs before turning over a 3-2 deficit to the bullpen.
Harang had thrown two shutouts in his previous five starts but has been inconsistent otherwise since being acquired from the Rockies in an early-season trade. The 35-year-old right-hander has lasted past five innings in just five of his 12 starts and remains 3-7 with a 5.29 ERA.
Gutierrez, activated off the 60-day disabled list prior to the game, homered in his first at-bat since April 22 leading off the second inning. Gutierrez took rookie right-hander Dan Straily deep to the opposite field on a 3-2 pitch for his fifth home run, the first four coming before a hamstring injury three weeks into the season.
"I think it was a good at-bat on that one because he threw me all his pitches," Gutierrez said. "I was fighting all the way through until I got a good count at 3-2. He threw me a fastball and I hit it good, but I was surprised it went out to that side because that's pretty far."
Franklin doubled high off the wall in right-center in the first inning, then ripped an RBI single in the second that gave Seattle a 2-0 lead.
But the A's cut the margin to 2-1 in the third with a sacrifice fly by shortstop Jed Lowrie, then took the lead with a two-run single by Lowrie with the bases loaded in the fifth.
Oakland tacked on a pair of runs in the seventh off relievers Charlie Furbush and Medina to take a 5-2 lead before Ibanez launched his three-run shot.
Mariners first baseman Justin Smoak went 2-for-3 with a walk and has now hit .333 (5-for-15) in four games since coming off the disabled list, raising his batting average to .249.
Greg Johns is a reporter for MLB.com. Follow him on Twitter @GregJohnsMLB as well as his Mariners Musings blog. This story was not subject to the approval of Major League Baseball or its clubs.