Pitchers struggle early, late for A's in Seattle
Pitchers struggle early, late for A's in Seattle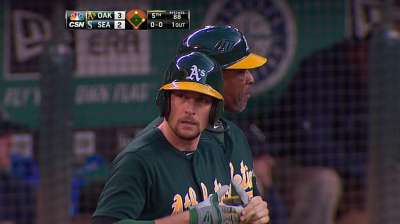 SEATTLE -- Oakland's bullpen is suffering from a case of road woes, its latest bout of struggles on display in a 7-5 loss to the Mariners on Saturday night.
Jerry Blevins and Ryan Cook combined to allow five runs in the final two innings to erase a three-run lead, and A's relievers and have now given up 12 runs total in 16 1/3 innings through six games of this seven-game road swing through Texas and Seattle for a 6.61 ERA in that span.
Just how good were they before they departed Oakland last Sunday? 2.79-ERA good. Since, the A's have lost four of six and have fallen into a first-place tie with the Rangers.
"You go through some stretches," manager Bob Melvin said. "It's been a little bit of everyone here, other than [Grant] Balfour at the end. When we have a 5-2 lead like that, we feel like it's pretty much in the bank. It just didn't happen tonight."
The big blow was Raul Ibanez's game-tying, three-run homer off the left-handed Blevins in the seventh, though it was Nick Franklin's two-run single in the eighth off Cook that untied a game that once was in the A's control.
For Blevins, it was just the second time in his past 17 appearances that he allowed a run.
The southpaw surrendered a one-out base hit to Kyle Seager in the seventh and proceeded to walk Kendrys Morales in advance of Ibanez's game-changing shot.
"You give up a single and walk the next guy, you put yourself in that position," Blevins said. "The pitch to Ibanez wasn't a terrible pitch. He hit it well. I'm more upset about the walk to bring the tying run to the plate. That's something you don't do. As for the home run, he's a professional hitter and has done it his whole career and was better than me today."
"Just looking for something I could barrel up and try not to do too much," Ibanez said. "You don't want to overswing in that situation, so I'm just looking for a base hit.
"It's huge to come back against a great team like Oakland."
Cook immediately relieved Blevins and, after boarding Franklin Gutierrez via a double, got two outs to end the frame before finding trouble in the eighth.
The A's righty offered up a leadoff single to Brendan Ryan, who advanced to second on a wild pitch and, merely seconds later, to third on Endy Chavez's ensuing bunt single. That brought up Franklin, who poked a line drive into left-center for the game-winning hit.
The bullpen's struggles, minus a 2 1/3-inning scoreless performance from Jesse Chavez, followed a shaky outing from starter Dan Straily, who gave up two runs on six hits and three walks with five strikeouts while throwing 78 pitches in just 3 1/3 innings, marking the shortest outing of his young career.
Straily was struggling with his release point, a mechanical flaw pitching coach Curt Young alerted him of after the second inning. By then, though, Straily had already thrown 59 pitches, so he knew his time left on the mound was nearing an end.
"I adjusted it and felt fine after, but Bob said I was out of bullets," Straily said. "When you throw that many pitches in that short of an outing, that's what happens. I just wasn't able to get my pitch count down.
"I felt strong. I didn't feel like I threw that many pitches ... but we weren't going to chance an injury."
For some time, it appeared the A's were going to bail Straily out.
Jed Lowrie collected three hits in the affair and drove in the first three runs, and Josh Donaldson and Josh Reddick each did their part, too, collecting RBI hits off right-hander Yoervis Medina in a two-run seventh.
Lowrie's multihit night was his third in a row, his season average now up to .305.
"It looked like we were in a pretty good situation, it just didn't work out," Melvin said. "Blevins hasn't made too many bad pitches this year in situations like that."
"I hope it's just one of those short stints," Blevins said. "We have nothing but confidence still in the bullpen. It's just unfortunate you give up a huge home run and momentum swings."
Jane Lee is a reporter for MLB.com. Read her blog, Major Lee-ague, and follow her on Twitter @JaneMLB. This story was not subject to the approval of Major League Baseball or its clubs.