Garcia chased early as O's lose big in finale
Garcia chased early as O's lose big in finale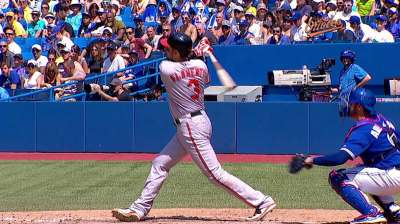 TORONTO -- The Orioles had their feathers ruffled in a key weekend series against the surging, division-rival Blue Jays.
After two hard-fought losses to open the three-game set, which included a walk-off defeat in the opener on Friday, Baltimore was blasted by Toronto in the finale and swept for the first time in over a month. Freddy Garcia was torched, while the Orioles allowed their most runs in a game this season in a 13-5 loss to the Blue Jays in front of a sellout crowd of 45,214 at Rogers Centre on Sunday.
"They whupped us," said Adam Jones, who went 1-for-4. "This series, they came out and they were competitive. We ran into a good team, you have to tip your cap sometimes."
The American League East is heating up, as the Blue Jays tied a franchise record with their 11th straight win. The division is the only one in baseball with all five teams playing over .500 ball.
Baltimore entered the series 11 games over .500 and six games above the last-place Blue Jays. But that advantage has been shaved in half, as Toronto climbed out of the cellar. First and last place in the AL East is only separated by five games, but Jones welcomes the challenge of a tougher division.
"This is what you want," Jones said. "You know me, I'm going to love the competition. It shows that this division is getting better, it's heating up. It's good, it's good for this division.
"The second half should be pretty fun."
Ryan Flaherty, who recorded his first career multi-homer game, said the Blue Jays have momentum on their side, something Toronto manager John Gibbons agreed with. The Blue Jays are the first team in baseball to win 11 consecutive games since 2011, and they have swept three straight series for the first time since 1998.
"I think that's what [a winning streak] does for you confidence-wise," Gibbons said. "You expect good things to happen, and [they usually do]. Just like it could be the other way around when you're struggling -- it goes the opposite way. You ride it out."
The O's were never really in this one, as Garcia got hit hard early and often. After escaping a bases-loaded jam in the first, exiting the frame trailing, 1-0, the game came unraveled.
Garcia allowed three runs in the second inning, with Edwin Encarnacion's two-run homer, his 21st of the season, being the big blow before the Blue Jays chased him from the contest in the third. The veteran surrendered three consecutive hits, which cashed in two more runs, before being lifted with one out in favor of lefty T.J. McFarland.
Toronto pounded Garcia for seven runs on seven hits over 2 1/3 innings. It was the shortest start of Garcia's season, and the seven runs are the most he has allowed since Sept. 5, 2011. Garcia's ERA ballooned to 5.77 on the season, and 10.19 over 17 2/3 innings in June.
"I've been in the game so long," said Garcia, who was pitching on extra rest and felt the ball was coming out of his hand well. "I know I need to pitch better. It's all my fault, my bad. I didn't pitch the way I wanted to pitch."
McFarland didn't fare much better, as he got tagged for five runs on five hits over a career-high 4 1/3 innings of relief. But he did save the bullpen -- which was largely responsible for the first two losses of the series -- from working overtime after Garcia's quick exit.
Pedro Strop took over for McFarland with two outs in the seventh and, after hitting a batter, allowed a bases-clearing double to Jose Bautista.
Baltimore's offense was held in check by Blue Jays starter Josh Johnson for the majority of the contest, and when the O's finally got to him, the game was already out of reach. Johnson retired 11 straight at one point, until the Orioles snapped his shutout bid in the sixth inning. Nick Markakis hit an RBI double and scored on an error to make it a 9-2 game.
Flaherty chased Johnson from the contest in the seventh by drilling a two-run homer, and later added a solo shot in the ninth for his fifth homer of the season.
Johnson, who recorded his first win of the season, went six-plus innings, allowing four runs on seven hits while walking one and striking out five. It was the first time Baltimore has faced Johnson, who Toronto acquired from the Marlins in a blockbuster deal this offseason.
"For the first time, it was good to see him on the mound," Jones said. "I know he was the big prize in that trade."
The Orioles, who wrapped up their six-game road trip with a 2-4 record, will begin a seven-game homestand starting on Monday against Cleveland.
"I don't dwell on that," Orioles manager Buck Showalter said about the sweep. "We're turning [our attention] to Cleveland. Cleveland doesn't care how it went [on Sunday]."
Chris Toman is a contributor to MLB.com. This story was not subject to the approval of Major League Baseball or its clubs.