Blowout win puts Blue Jays firmly in AL East race
Blowout win puts Blue Jays firmly in AL East race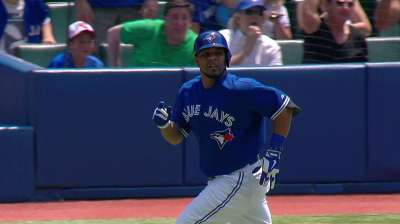 TORONTO -- It wasn't that long ago when the Blue Jays' season seemed dangerously close to going off the rails. But what a difference a couple of weeks can make.
All of a sudden, Toronto finds itself in the thick of the American League East race. The long road back to respectability has come to an end, but the next step in the journey is only just beginning.
The Blue Jays continued their dramatic turnaround after tying a franchise record by winning their 11th consecutive game with a 13-5 victory over the Orioles on Sunday afternoon at Rogers Centre.
"It was a battle early on, we all know that," Blue Jays manager John Gibbons said of his team's season. "We always figured it was just a matter of time before we started playing better -- and it lasted longer than we expected, but that's all behind us now.
"We're just rolling along, right now. This one is behind us, now go play [on Monday] in Tampa [Bay] in a tough ballpark to play with a good team. But we're playing better."
This type of streak is something that has been rarely seen in the city of Toronto. It's just the third time in franchise history the club has won 11 in a row, after previously doing it in 1987 and 1998.
The 11-game mark is the longest streak in the Majors since Detroit won 12 in a row back in 2011. It's also the main reason the Blue Jays have been able to jump back into the AL East race in such rapid fashion. The club was 12 games behind Boston on June 10, but after Sunday's win the deficit has been cut to five.
Perhaps just as remarkable is that on June 4 the Blue Jays were 10 games under .500, with no end in sight to their struggles. Since that time, the club has won 14 of its past 16 games -- and along the way became the first team since Cleveland in 1979 to ride a 10-game streak past the .500 mark.
"I've been waiting for this since the season started," said Edwin Encarnacion, who was a triple shy of the cycle on Sunday while adding three hits and four RBIs.
"I believe in this team, so I knew things had to change, things had to turn around for us. This is what's happening for us, and we're going to enjoy the moment. I'm not surprised by this, I know this team is good and I know we can do it."
Most of that success can be credited to a revitalized pitching staff. The Blue Jays have allowed two runs or fewer in nine of their past 11 games, dating back to June 13. The starters posted a 2.25 ERA over that span, while the bullpen recently went through a stretch of 27 2/3 consecutive scoreless innings.
It was the offense, though, that set the tone against Baltimore in the series finale. Toronto scored one in the first, three in the second and then sent all nine batters to the plate during a five-run third inning to break the game wide open.
In addition to Encarnacion's four-RBI afternoon, the Blue Jays received a three-run double by Jose Bautista. Colby Rasmus also homered, left fielder Melky Cabrera added a pair of RBIs, and Maicer Izturis and Emilio Bonifacio had RBI doubles.
Seven of those runs were charged to Orioles right-hander Freddy Garcia, who recorded just seven outs while allowing seven hits and issuing two walks. Since June 2, the Blue Jays have outscored their opponents 101-53 -- and by doing so have gone two games above .500 for the first time since July 28, 2012.
"This is what you want, you want competition," said Baltimore's Adam Jones, whose team now holds just a three-game lead over the Blue Jays. "Next few years, I don't think the division winner is going to be 98 [wins] anymore. I think it's going to be more 90-94, because of the competitive level each team in this division has and how good each team is.
"This series, they came out and they were competitive. They whooped us. But we'll see them again very, very soon."
The Blue Jays have been able to go on this type of run without the services of some key components. Brandon Morrow, J.A. Happ and Brett Lawrie are all on the disabled list; Jose Reyes hasn't played since April 12 but is expected to return from a left ankle injury in the near future.
Even right-hander Josh Johnson hasn't played as much of a role as most people would have expected. He missed 48 days from April 21-June 9 with inflammation in his right triceps muscle, and finally got into the win column following the lopsided victory over Baltimore.
Johnson threw six-plus innings and allowed four runs on seven hits, while striking out five. It was Johnson's first victory since Sept. 6, when he was still a member of the Marlins. This win came in relatively easy fashion, but it was a rare moment to relax for a team that's had 39 of its games this season decided by two runs or fewer.
"Probably all the close wins," Johnson said when asked what has impressed him the most about the club's win streak. "Until today, we really haven't blown guys out. It's been close games. And just quality of play, offense, defense, the bullpen, can't say enough about the bullpen -- they've been outstanding. It's been a total team effort."
Toronto won't have to wait long before facing its next big test. The club departed shortly after Sunday's win to embark on a seven-game road trip through Tampa Bay and Boston.
Momentum in baseball is extremely hard to gauge, with so much depending on the next day's starting pitcher. But there's no sense debating that the Blue Jays' level of confidence has been taken to an entirely new level.
"I think that's what [a winning streak] does for you confidence-wise," Gibbons said. "You expect good things to happen, and [they usually do]. Just like it could be the other way around when you're struggling -- it goes the opposite way. You ride it out. But we feel pretty good about ourselves, right now."
Gregor Chisholm is a reporter for MLB.com. Read his blog, North of the Border, and follow him on Twitter @gregorMLB. This story was not subject to the approval of Major League Baseball or its clubs.