Four homers not enough in Walters' rough start
Four homers not enough in Walters' rough start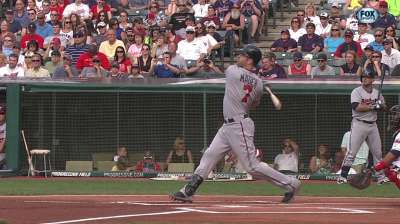 CLEVELAND -- Despite the best efforts of Chris Parmelee and the rest of Minnesota's lineup, the Twins couldn't overcome a wide deficit that was rooted in starter P.J. Walters' inability to throw strikes.
Walters issued five walks and hit a batter in the first inning, which saw six Cleveland base runners cross home plate. The Twins blasted four home runs -- including two by Parmelee -- but ultimately their comeback campaign fell short, as they dropped Saturday's game, 8-7.
"When you score seven runs, you should win in this league," manager Ron Gardenhire said. "This wasn't about our hitting, this was about our pitching. We got behind early."
Most of the Twins' runs scored via the long ball. In the first inning, Joe Mauer followed Clete Thomas' leadoff single by drilling a fastball from Indians starter Corey Kluber into the seats in right-center. The big fly gave Minnesota a home run in seven straight games.
Then, in the fourth, Oswaldo Arcia hit a solo shot to left-center, and Parmelee went deep to right in the eighth and ninth innings, giving himself his first career multi-homer game.
"We went out there and played extremely well," Parmelee said. "Our pitching wasn't really there at the beginning, but our offense was there to pick us up. We made a run at it and just came up a run short. Nobody should be hanging their heads in the clubhouse here. It was a good game. We were in it the whole time."
Now, about that pitching. For Walters, the wheels didn't fall off. There were no wheels to begin with.
Staked with a two-run lead courtesy of Mauer's home run, Walters began his night by walking Michael Bourn and beaning Mike Aviles. Jason Kipnis doubled them in, and he was soon joined on the bases after walks to Carlos Santana and Mark Reynolds.
With the bags full, Jason Giambi and Drew Stubbs both walked, bringing two more runs home for Cleveland. That led Gardenhire to remove his starter, who threw 28 of his 46 pitches for balls. Reliever Anthony Swarzak allowed a two-run single to Bourn before inducing an inning-ending groundout from Aviles.
"Walters just didn't really have it tonight," Gardenhire said. "Couldn't throw the ball over the plate. We haven't seen that in a while. Hopefully, we won't see that again."
Walters retired two of the nine batters he faced. He allowed six runs -- all earned -- on five walks, a base knock and a hit batter. The right-hander's ERA rose from 3.23 to 4.88.
"Obviously, it's not something I was trying to do," Walters said. "I let my teammates down. I came out tonight and didn't do my job.
"I think throughout the inning, we tried just about everything. It was up, down, in, out, and balls all over the place."
While Walters was certainly off, Indians manager Terry Francona gave credit to his players for how the first inning played out.
"I thought we did a really good job," Francona said. "There were some instances where he had a couple four-pitch walks. But there were also some balls that we took that were close, where we didn't give in, and we extended the inning and did a really good job."
Swarzak wasn't charged with a run during his 3 1/3 innings of relief. Ryan Pressly came in to pitch the fifth and surrendered a pair of runs on RBI singles by Stubbs and Bourn -- which in the end proved to be the difference. Pressly threw three innings and Caleb Thielbar tossed a scoreless eighth.
"Our bullpen came in and did just a fantastic job of trying to keep it there as best they possibly could after we got in the mess early," Gardenhire said. "They scored a couple more runs but, like I said, good effort by the boys out there."
Indians reliever Vinnie Pestano allowed Minnesota to get within one in the ninth inning, but with two outs and a man on first, he struck out pinch-hitter Josh Willingham to seal the game.
Minnesota scored two in the first and ninth innings. In between, it added one run in the fourth, seventh and eighth innings.
In addition to the four homers, Trevor Plouffe plated a run with a liner and Arcia drove in another with an RBI groundout.
"We hung in there pretty good," Gardenhire said. "They never quit, and we kept pecking away at them. ... We came up a little bit short there, but pretty good effort by the group. ...
"You have to play nine innings. And we played nine innings. Well, eight. The first one wasn't our inning. So, we played eight good ones."
Mark Emery is an associate reporter for MLB.com. This story was not subject to the approval of Major League Baseball or its clubs.