K-Rod fills in as closer, notches save No. 300
K-Rod fills in as closer, notches save No. 300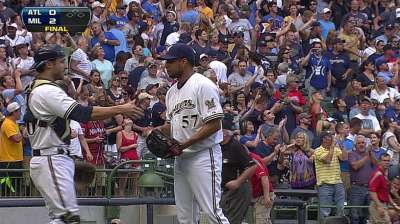 MILWAUKEE -- It was a fitting finish to a save for which K-Rod has been waiting nearly two years. Francisco Rodriguez, the Brewers' setup man, was the closer for a day on Saturday and struck out Braves first baseman Freddie Freeman to seal a 2-0 Milwaukee win and grab his elusive 300th save.
After punching out Freeman and joining Bruce Sutter and Jason Isringhausen at No. 25 on the all-time saves list, Rodriguez blew a sigh of relief and pointed skyward with both hands, the celebration he made famous with the Angels a half decade ago.
"Long time; finally, it's here. I didn't want to let it slip away," said Rodriguez after his sixth save this season and ninth in two and a half years with the Brewers. "This is a huge relief for me. I've been through a lot of adversity. My whole career I've been able to bounce back, and I continue to do it."
Not long ago, many believed Rodriguez's career was finished. Last season with the Brewers, the right hander with a high leg kick struggled to a 2-7 record and 4.38 ERA in 78 appearances with Milwaukee. But the Brewers signed him to a Minor League contract on April 17, giving Rodriguez another shot at the milestone.
He worked his way back to the big leagues this season, and he earned a setup role while filling in for closer Jim Henderson during an injury stint and off-days, such as the one he had on Saturday. All the while, he was inching closer and closer to No. 300.
"The Brewers gave me the opportunity once again, and I didn't want to let them down," Rodriguez said. "You have no idea how happy, excited I am right now. A lot of people thought that I was done or that I was, you know, weak, whatever, or that I retired. People forgot that I was still 31 years old. Last year was a really, really bad year. I know what I'm capable to do."
Rodriguez has returned to prime form this season. He has not allowed a run in 15 of his 16 appearances this season and holds an 0.59 ERA.
He came in to Saturday's game to a nice ovation from the crowd, threw five warmup pitches and went to business as usual.
Jordan Schafer squibbed the second pitch he saw from Rodriguez toward Jean Segura at shortstop, who charged the chopper and made a highlight-reel bare-handed play to beat Schafer by a step at first base.
Andrelton Simmons then turned on an 0-2 Rodriguez changeup and launched it halfway up the left-field wall. Logan Schafer played it off a hop and got the ball in quickly to keep Simmons at first base. Simmons advanced to second base on a defensive indifference on the first pitch to Freeman, but it did not matter as Rodriguez sealed the game -- and his milestone -- right there.
Kevin Massoth is an associate reporter for MLB.com. This story was not subject to the approval of Major League Baseball or its clubs.