Liriano's gem backed by three Bucs homers
Liriano's gem backed by three Bucs homers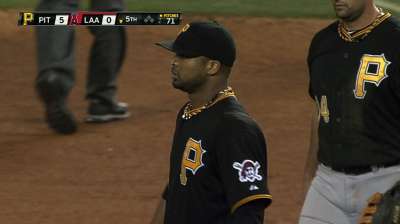 ANAHEIM -- Francisco Liriano spotted the rest of Pittsburgh's rotation six weeks, which he needed to recover from a fracture of his non-throwing right arm. The left-hander, remarkably, caught up with his fellow starting pitchers on Saturday night, when he moved the Pirates a step closer to catching up with St. Louis.
Liriano both dazzled and frustrated the Angels for 6 2/3 innings, throwing seven-hit ball in the Pirates' 6-1 victory at Angel Stadium.
Who would have thought, just a few years ago, that becoming a Pirate would elevate somebody's game? While in the American League, the former Twins hurler was 1-4 with a 6.69 ERA against the Angels.
"What's in the past has already happened, and I'm moving forward," Liriano said. "Everything is going my way right now, and I just want to keep it going."
A trio of solo homers -- by Pedro Alvarez, Andrew McCutchen and Gaby Sanchez -- powered the Pirates to their eighth win in 11 Interleague games. And these last two have come against the AL team with the absolute best mark in Interleague competition since 2007, at 78-41.
Liriano did not make his first start until May 11, yet, in improving his record to 6-3, he tied for the club lead in wins with two other southpaws, Jeff Locke and Wandy Rodriguez (who has not been able to add to his total since going on the disabled list with forearm tightness 12 days ago).
"We projected him well," said Pirates manager Clint Hurdle, referring to the club's expectations when they signed the free agent coming off an off year, "and are glad to have him. He's worked well, given us an opportunity to win every game."
With its 45th win, Pittsburgh hit a new season plateau of 15 games over .500, and also moved within two games of National League Central-leading St. Louis while opening a 1 1/2-game edge over third-place Cincinnati.
As he had on Friday, Alvarez triggered the scoring and a three-run second with a homer, his 18th of the season and third in as many games -- the first time in his career that he connected in three straight games. That blow was also Alvarez's ninth in his last 17 Interleague games, after he'd been blanked in the first 20.
"Pedro is flat-out hot," said Hurdle, who attributed the rest of the night's balanced 10-hit attack to the fact "we were due, and we got some balls to hit, and got contributions from everybody."
Hurdle was talking about the offense, the department that indeed was varied.
Following Alvarez's homer, Jordy Mercer's RBI single and a bases-loaded walk of Russell Martin added up to a 3-0 lead for Liriano over Angels right-hander Jerome Williams.
The Bucs added single runs in the fourth, on Travis Snider's RBI single, the fifth, on McCutchen's homer, his eighth, and in the eighth inning, on Sanchez's shot off the left-field foul pole off reliever Michael Kohn.
But contributions also came from arms other than that of Liriano or the relievers (Bryan Morris and Justin Wilson) who finished up for him.
The game still hung very much in the balance in the fourth inning, when the Angels got three consecutive one-out hits, starting with a Howie Kendrick double, and they did not score. Kendrick had to hold second as Alberto Callaspo singled to deep short in front of him, but was off and running on Erick Aybar's clean single to left.
Los Angels third-base coach Dino Ebel didn't even consider not waving Kendrick home.
Watching from center field, McCutchen saw Starling Marte charge and eject the ball and thought, "He's going to be out."
"I knew he'd be out when I saw the coach waving," McCutchen said. "Not many left fielders have the type of arm Marte has."
Marte's throw reached Martin on one hop, and Kendrick never reached the plate.
"Marte came up and just threw a laser home," Angels manager Mike Scioscia said. "We knew he had a good arm and he showed it off on that play, but it was going to take that type of throw to get Howie and he put it right on the money. Give them credit, it was a tremendous play, it was definitely a momentum switcher for them as we were getting something going that inning."
"You won't see a left fielder with an arm like that very often," Hurdle said.
Liriano lived below the Angels' knees in continuing his convincing comeback, one built on something certainly not associated with him before: unerring control.
The three walks he issued Saturday night would've been a typical inning for him the past few years. In 54 2/3 innings this season, he has a precise strikeouts-to-walks ratio of 61-to-22.
Williams inherited the start from left-hander Jason Vargas, placed on the DL Friday with a blood clot, and went six innings, yielding eight hits and five runs, four of them earned. Williams walked two and struck out three, two of them in a perfect first inning before the Bucs started to figure him out.
"If he'd thrown the whole game like in the first," Hurdle said, "it would've been complicated for us. After that, he left a lot of balls elevated, and his mistakes made it easier for us to hit him. That first was pretty sharp for him."
Tom Singer is a reporter for MLB.com and writes an MLBlog Change for a Nickel. He can also be found on Twitter @Tom_Singer. This story was not subject to the approval of Major League Baseball or its clubs.