Kubel lifts D-backs to walk-off win vs. Reds
Kubel lifts D-backs to walk-off win vs. Reds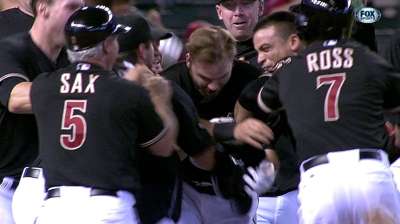 PHOENIX -- Leave it to D-backs left-hander Patrick Corbin, who has done just about everything right on the mound this year, to best summarize his team's 4-3 walk-off win over the Reds on Saturday.
"It was crazy, but just awesome to come away with a win like that," he said.
Crazy it was, as the game saw outstanding pitching performances by both starters and blown saves by each team's closer.
"Fortunately, we had last at-bats today," D-backs manager Kirk Gibson said.
The D-backs needed them, because Heath Bell was unable to hold a 2-1 lead in the ninth.
Corbin had pitched masterful for eight innings, with his lone mistake a misplaced fastball that Jay Bruce smashed off the corner of the scoreboard in center for a solo homer in the second inning.
And for a time it looked like that one run would be enough for the Reds, because Mike Leake was on top of his game. The right-hander was perfect through the first 5 2/3 innings before Corbin helped out his cause with a bloop double to left.
"It was a terrible swing," Corbin said. "It just fell in."
Regardless, it brought Gerardo Parra to the plate, and he hit a two-run homer to right-center. Suddenly, within a span of two batters, Leake lost not only his bid for perfection and the shutout, but also his lead.
"It was a pitch you have to be careful with," Leake said. "I didn't quite get it where I wanted. That's a good zone for him. He likes hitting that ball close to him. It was a cutter, and it just kind of stayed over the plate."
The Reds threatened in the eighth, when Derrick Robinson tripled with one out.
Corbin, though, found a way to get out of it when he struck out left-handed batters Shin-Soo Choo and Joey Votto.
"That's a great hitter right there, and that's not a position you really want to be in," Gibson said of Votto.
The at-bat proved to be a great matchup, with Corbin getting Votto to swing through a 93-mph fastball on the seventh pitch of the at-bat for Corbin's fifth, and biggest, strikeout of the game.
It was, Gibson said, a defining moment for Corbin.
"I was just coming inside early, and he worked a full count like he always does," Corbin said. "He's a tough batter to face. If he was going to beat me, I was going to throw as hard as I could by him and try, and if he got me, he got me, but fortunately he swung through it."
Gibson thought about leaving Corbin in for the ninth, but at 104 pitches, Corbin's leash would have been short, and Gibson wanted Bell to have a clean inning to start.
Things got ugly in a hurry, as Bell walked Brandon Phillips to start the inning, and Bruce followed with his second homer of the game to give the Reds a 3-2 lead.
It was the fifth straight outing in which Bell allowed a home run, and Gibson was asked after the game if he might need to turn to someone else to close out games until injured closer J.J. Putz returns, possibly next week.
"I don't know," Gibson said. "I might have to put some thought into that."
Brad Ziegler came in to get the D-backs out of the ninth without any further damage, and it was Aroldis Chapman's turn to see if he could close things out.
Paul Goldschmidt led off the ninth with a sharp grounder that went off Votto's glove at first for a single, and then Chapman lost his feel for the strike zone, walking Miguel Montero and Cody Ross to load the bases.
Gibson elected to let the left-handed hitting Jason Kubel stay in the game to face Chapman, and Kubel made the move pay off when he hit a 1-0 fastball into right field to score Goldschmidt and Montero.
"I'm sure not many guys would have trusted Kubel," Gibson said. "But I did, and he got it done, which was great."
Kubel said: "Just a couple of fastballs, and did what I was trying to do, just up the middle, hopefully in the outfield, and it worked out."
With the win, the D-backs maintained their lead in the National League West, but for the fourth time they failed to give Corbin the support he needed to pick up his 10th win.
"Honestly I don't really look at it too much," said Corbin, who is 9-0. "Everybody keeps saying, 'Get the 10th win,' but I'm trying to get every win, no matter what win it is."
Or how winding the road to it may be.
Steve Gilbert is a reporter for MLB.com. Read his blog, Inside the D-backs, and follow him on Twitter @SteveGilbertMLB. This story was not subject to the approval of Major League Baseball or its clubs.