Angels' leadoff carousel continues
Angels' leadoff carousel continues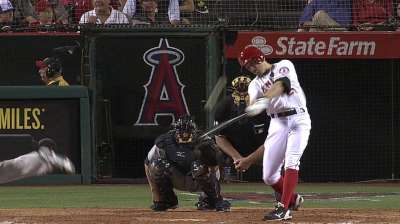 ANAHEIM -- Earlier in the week, Angels manager Mike Scioscia said the team may platoon the leadoff spot for the the time being.
The Angels have had five players -- Erick Aybar, Mike Trout, Peter Bourjos, Alberto Callaspo and J.B. Shuck -- hit first this season, and after Aybar spent Thursday and Friday as the leadoff hitter, Scioscia gave the nod to Bourjos on Saturday.
"Right now, we're going to mix and match a little bit," Scioscia said. "Peter's definitely making a case to get more time as a leadoff hitter. He's doing a great job since he's come off the disabled list."
Since returning from the DL on June 10, Bourjos is hitting .385.
Saturday's start was Bourjos' 18th batting leadoff, but the center fielder has also begun 14 games as the ninth hitter, one as the seventh and one as the eighth.
Although Scioscia said it is preferable to have a set lineup, Bourjos has no preference.
"It doesn't matter," Bourjos said. "Going into the game, it's going to be the same approach. Obviously once the game starts, it's a normal game. It rolls over and you're hitting wherever you're hitting after that first at-bat."
While Scioscia has said several times he believes Trout will ultimately be a middle-of-the-order hitter, the manager did not rule out the 21-year-old returning to the leadoff spot.
"There's some things with our core group that we are waiting to see," Scioscia said. "When Josh Hamilton gets into his game, it's going to give us a lot more looks, which might put Mike back in the leadoff spot, we'll just see how it goes. We have some guys that are putting themselves as options at that position and that's good."
William Boor is an associate reporter for MLB.com. This story was not subject to the approval of Major League Baseball or its clubs.