Bruce backs stellar Leake, but Reds fall on walk-off
Bruce backs stellar Leake, but Reds fall on walk-off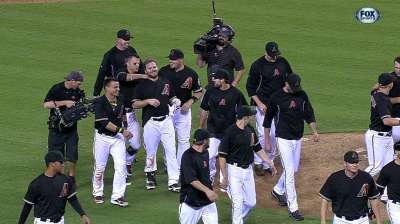 PHOENIX -- For eight innings Saturday afternoon, starting pitchers Mike Leake and Patrick Corbin staged an edge-of-your seat duel where they each had chances to win.
Then both starters watched helplessly as the teams' closers blew their leads. But the D-backs could laugh last after beating a wild Aroldis Chapman on Jason Kubel's bases-loaded, two-run single in the bottom of the ninth, handing the Reds a 4-3 loss.
"A lot of times the last three outs are the hardest; that proved true today," said right fielder Jay Bruce, who hit two home runs in the game -- including a two-run shot off Heath Bell for a 3-2 Cincinnati lead in the top of the ninth.
After Corbin worked eight innings and left with a 2-1 lead, Arizona put the game in the hands of an embattled closer in Bell. Had Bell closed it, Corbin would have had a 10-0 record to start the season.
That went out the window as Brandon Phillips drew a nine-pitch walk to begin the ninth. Next was Bruce, who hammered a 3-2 pitch to right-center field that put Cincinnati ahead. Bell was pulled in favor of Brad Ziegler, who walked Todd Frazier before getting the next three batters out.
"I don't think my teammates were down and put their heads down," said Bell, who has allowed a homer in five straight appearances. "They went out there and beat one of the best closers in the game."
In the bottom half, Chapman faced four batters and retired zero. Paul Goldschmidt led off with a one-hopper near first base that went off of Joey Votto's glove. A potential error, it was ruled a single by the official scorer.
"Usually Joey catches that ball," Reds manager Dusty Baker said. "We were all surprised the ball went into right field. It's what happens when it's their day. After that, [Chapman] couldn't find the plate."
Goldschmidt advanced to second base on a wild pitch to Miguel Montero, who soon drew a walk from a 100-mph fastball in the dirt to put the go-ahead run on first base.
Chapman's wildness continued, and he received a mound visit from Baker after a first-pitch ball to Cody Ross.
"I was trying to settle him down," Baker said. "He was frustrated at that time. Sometimes it works; sometimes it doesn't."
Chapman fell into a 3-2 count before walking Ross to load the bases for Kubel, who lined a 1-0 pitch over a drawn-in infield for the walk-off ending. It was Chapman's third blown save in 21 chances this season and his first runs allowed in 14 appearances since May 19.
"You just hate to lose it like that," Baker said. "We've lost quite a few of them late. It seemed like Chappy was overthrowing some today. He was wild, high. It was just a tough ending."
Leake pitched eight innings with two runs, four hits and one intentional walk allowed while striking out one. Arizona had a few hard-hit balls in the early going but was not close to getting a hit off of Leake, who had only 52 pitches through five innings. He had retired his first 17 batters until being foiled by the opposing pitcher in Corbin, who sliced a double that landed a few feet inside the left-field line.
On whether he was aware of the developing perfect game, Leake said: "Yeah, I was, but I wasn't thinking about it to where it would affect anything as far as pitching."
Next, on a 1-0 Leake pitch, Parra hit a no-doubt drive to right field that gave the D-backs the one-run lead.
"I didn't quite get it where I wanted," Leake said. "That's a good zone for him. He likes hitting that ball close to him. It was a cutter, and it just kind of stayed over the plate."
In his last eight starts, Leake is 6-1 with a 1.31 ERA.
"He did great," Bruce said. "He pitched a great game. We just have to play better as a team. I think Leake has arguably been our best pitcher, and the most consistent pitcher all year."
Although not perfect, Corbin was very strong for Arizona, and his only hit allowed through six innings was Bruce's leadoff home run to right-center field in the second inning. The estimated distance of the shot was 472 feet, the longest homer of the season at Chase Field.
Corbin retired 14 of his next 15 batters and did not allow another hit until Devin Mesoraco's one-out single in the seventh. It was followed by Zack Cozart's inning-ending double play.
In the eighth as Corbin neared the 100-pitch mark, Derrick Robinson hit a one-out triple to left-center field. Arizona let the left-handed Corbin work out of his own jam, especially with lefty hitters Shin-Soo Choo and Votto up. Choo and Votto both struck out. The lead came only when Bruce was clutch in the ninth.
"We just need some other guys to join forces with Jay," Baker said of Bruce, who had his first multi-homer game of the season and has gone deep in his last four games and in seven of his last nine.
Later in the ninth with two outs, Baker pinch-hit for Leake even though he had only 92 pitches. There was never any question about who was coming in.
"I had to hit for him; you've got Chapman in the bullpen," Baker said. "You can look back and say, 'He should have finished it.' If he gives it up, then you can look back and say, 'How come he doesn't bring in Chapman?' That's Chapman's job."
Mark Sheldon is a reporter for MLB.com. Read his blog, Mark My Word, and follow him on Twitter @m_sheldon. This story was not subject to the approval of Major League Baseball or its clubs.