Williams doomed by Pirates' homers
Williams doomed by Pirates' homers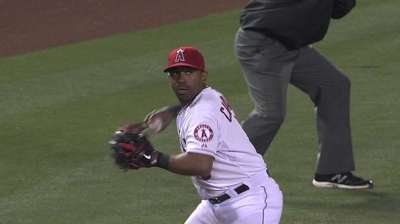 ANAHEIM -- Jerome Williams was unable to string together scoreless innings and the Angels offense was unable to break through against left-hander Francisco Liriano and a Pittsburgh defense that made multiple highlight-reel plays in a 6-1 loss to the Pirates on Saturday night at Angel Stadium.
For the second time in as many nights, the Pirates' starting pitcher got the best of the Angels. On Friday, it was the rookie and local product Gerrit Cole. On Saturday, it was the eight-year veteran Francisco Liriano who shut down a lineup that was hitting .326 and scoring an average of 5.7 runs over its last nine games.
"We faced two pitchers that pitched a really good game," Angels catcher Chris Iannetta said. "They made their pitches, they executed, they did a good job. You tip your cap to them. Obviously we'd love to grind out more at-bats, get more hits and score more runs, but it happens. It's unfortunate timing, but we've got to find a way to win those games."
Although the Angels have been dominant in Interleague Play, now boasting a Major League-best 78-41 record since 2007, they are just 4-7 against the National League this season.
While Liriano, who allowed just one run on six hits in 6 2/3 innings, gets the credit for the win, his defense played a huge part.
With runners on first and second and one out in the third, Mike Trout hit a hard ground ball that appeared to be an RBI single, but Pirates first baseman Gaby Sanchez dove to his right and retired Peter Bourjos at second base.
"Give them credit, it was a tremendous play," Angels manager Mike Scioscia said. "It was definitely a momentum switcher for them as we were getting something going that inning. It was a nice defensive play."
It didn't take long for the Pirates to show that the strong play -- despite having just the No. 22 fielding percentage in all of baseball -- was no fluke, as Starling Marte's strong throw to home plate cut down Howie Kendrick on an Erick Aybar single in the fourth inning.
"We're going to stay aggressive," Scioscia said. "Marte came up and just threw a laser home. We knew he had a good arm, and he showed it off on that play, but it was going to take that type of throw to get Howie and he put it right on the money."
Second baseman Neil Walker's diving attempt at Trout's RBI single in the seventh was seemingly the only play the Pirates failed to make.
As Liriano was putting up zero after zero, Williams was struggling with consistency and allowed five runs (four earned) on eight hits in six innings.
The Angels right-hander -- starting in place of the injured Jason Vargas -- retired the first four batters he faced, but then ran into trouble.
"I left balls up over the plate," Williams said. "That's where I got hurt. That's not me, I usually stick on the corners, get balls down, but tonight the ball just stayed up."
Pirates manager Clint Hurdle made the same observation.
"If he'd thrown the whole game like in the first, it would've been complicated for us," Hurdle said. "After that, he left a lot of balls elevated, and his mistakes made it easier for us to hit him. That first was pretty sharp for him."
Pedro Alvarez -- the fifth batter Williams faced -- hit a solo home run to right field giving him a homer in three straight games.
Three of the next four Pirates scratched out singles, and when the second inning finally came to a close, the Pirates had sent all nine batters to the plate and scored three times courtesy of four hits, a walk and an error on third baseman Alberto Callaspo.
The Pirates scored once in the fourth via Travis Snider's RBI single, once in the fifth when Andrew McCutchen hit a home run to left field and again in the eighth on Sanchez's solo homer off Angels reliever Michael Kohn -- the first run Kohn had allowed since May 27.
William Boor is an associate reporter for MLB.com. This story was not subject to the approval of Major League Baseball or its clubs.