Francona planning to slot Swish into lineup soon
Francona planning to slot Swish into lineup soon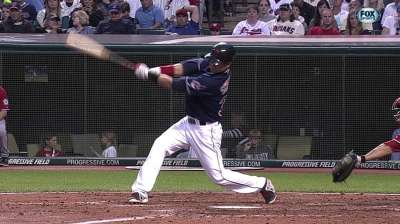 CLEVELAND -- With a day game looming on Sunday, Indians manager Terry Francona opted to keep Nick Swisher out of the lineup on Saturday for the seventh straight game due to soreness in the first baseman's left shoulder. The Indians manager noted that the current plan calls for Swisher to make his return either Sunday against the Twins or on Monday in Baltimore.
"I think we're both on the same page," Francona said. "The good news is, he's coming. Is it [Sunday]? I'd say probably, but it'll be the next day, if not."
Francona said he discussed the situation on Friday night with Swisher, informing the first baseman of his hesitance to start him in a night game on Saturday followed by a day game. When Swisher does return, Francona said he can play first base. The manager said he does not feel the need to ease him into game action as a designated hitter.
Prior to Saturday's game against Minnesota, Swisher took swings in the cage on the field during an early round of batting practice. He is likely available off the bench as a pinch-hitter, if absolutely necessary.
"I don't want to have him down for four, five or six days and not have it be productive," Francona said. "He's doing pretty good. You have four days down, so you've got to let that thing heal a little bit. ... Then you've got to ramp up, but if you go too fast, you'll set yourself back. We're trying to do it at an appropriate pace."
Swisher has hit .237 with seven home runs, 14 doubles and 24 RBIs through 61 games after signing a five-year, $56 million contract over the winter. He last played on June 15 against the Nationals, and he has hit .134 (9-for-67) with 20 strikeouts in his last 18 games.
Jordan Bastian is a reporter for MLB.com. Read his blog, Major League Bastian, and follow him on Twitter @MLBastian. This story was not subject to the approval of Major League Baseball or its clubs.