Gutierrez feeling renewed in return from 60-day DL
Gutierrez feeling renewed in return from 60-day DL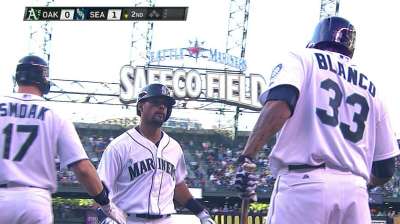 SEATTLE -- Mariners outfielder Franklin Gutierrez, who was activated from the 60-day disabled list on Saturday, says he's finally back to feeling like himself again after getting on a medication recently to deal with a joint-inflammation issue.
Gutierrez has been on the disabled list since suffering a hamstring injury on April 23. He was recalled from his Minor League rehab assignment in time to join the starting lineup for Saturday night's game against the A's at Safeco Field.
To make room on the 25-man roster, outfielder Michael Morse was placed on the 15-day disabled list, retroactive to Friday, after continuing to battle a strained right quadriceps muscle. Minor League outfielder Eric Thames was designated for assignment to create a spot on the 40-man roster.
Manager Eric Wedge said Gutierrez would be used primarily in center field as long as he's feeling well, with Michael Saunders able to move to left or right as needed. Gutierrez will be brought along carefully, given his history.
"We're not going to push the envelope," Wedge said. "I don't think we can with him. We just want to keep him in a good spot and that's where he is right now. … The biggest thing we heard is he said he feels normal for the first time in a while. That's encouraging. He stole some bases down there, he hit with some power, it should be a boost for us to have him back."
Gutierrez has dealt with numerous health issues over the past two and a half seasons, having played in just 148 of the team's 399 games since the start of 2011. His latest issue was something genetic, he said, that doctors discovered and compared to an arthritis-like condition.
"I was playing every day in Triple-A, feeling good, getting my legs back again," said the 2010 Gold Glove outfielder. "It wasn't easy because I was having some inflammation with my joints and that was the cause of all this. I wasn't moving the way I'm supposed to move. But now I'm getting to the point where I feel normal."
Gutierrez, 30, hit .232 with three home runs and 17 RBIs in 22 games with Tacoma while recovering from the leg injury. In the previous two years, he's been on the disabled list with a digestive issue, a torn pectoral muscle, a strained oblique and a concussion.
"It's been a little frustrating because nobody wants to be on the DL, nobody wants to have an injury," he said. "I just want to help my team. I just want to be here. It's been a tough road for me, but I'm just trying to stay positive and do whatever I can the rest of the season.
"I'm feeling much better because it was affecting my joints, my eye was getting inflammation. So many people didn't know about this and we didn't talk about it until now. I don't want to make a big deal of it, but this is what has been happening, and I'm feeling much better. I'm taking my medication and it's working."
Thames, 26, hit .295 with seven home runs and 33 RBIs in 57 games for Tacoma. He is currently on the Minor League disabled list with a left wrist laceration. Thames was acquired by Seattle on July 31 from the Blue Jays in exchange for reliever Steve Delabar. The Mariners now have 10 days to trade, release or outright Thames' contract.
Greg Johns is a reporter for MLB.com. Follow him on Twitter @GregJohnsMLB as well as his Mariners Musings blog. Jacob Thorpe is an associate reporter for MLB.com. This story was not subject to the approval of Major League Baseball or its clubs.