Thomas moves up, Dozier down in lineup vs. righty
Thomas moves up, Dozier down in lineup vs. righty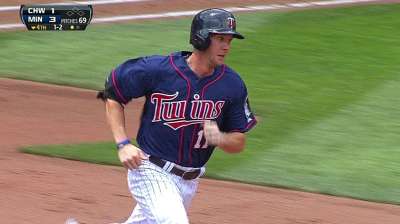 CLEVELAND -- Brian Dozier might like hitting leadoff, but that doesn't mean he's always going to get his wish. The Twins slated Clete Thomas into that spot on Saturday against the Indians.
The fact that the Tribe was facing a righty in the Indians' Corey Kluber factored into manager Ron Gardenhire's thinking. The skipper preferred Thomas' left-handed bat up top, and he didn't want to cluster his lefties at the bottom of the order, as Oswaldo Arcia and Chris Parmelee hit left-handed, too.
"Dozier hits lefties, and Clete hits righties," Gardenhire said. "As I said, I was going to flip these two around. I think they've both done a really nice job up there."
Against right-handers, Thomas owns a .296/.321/.333 slash line this season. When Dozier hits against southpaws, his numbers are .295/.385/.523.
In his last six games, Dozier is 7-for-20 with two doubles, four home runs and eight RBIs. The second baseman hit eighth in the lineup on Saturday.
"I'm seeing the ball good," Dozier said. "I do like hitting leadoff. I'm really comfortable up there."
But there was Thomas on Saturday, out in front of the Minnesota lineup. Though Gardenhire worries about too many lefties at the bottom, he doesn't have the same concerns at the top.
"You just get overloaded at the bottom," Gardenhire said. "This way, at least it mixes it up a little bit. I don't mind ever with Thomas coming up and then Joe Mauer behind him.
"But down at the bottom, that will make a difference, and I don't have enough pinch-hitters on the bench to cover people. This tries to gives you a little more balance, anyway."
Mark Emery is an associate reporter for MLB.com. This story was not subject to the approval of Major League Baseball or its clubs.