Twins riding seven-game home run streak
Twins riding seven-game home run streak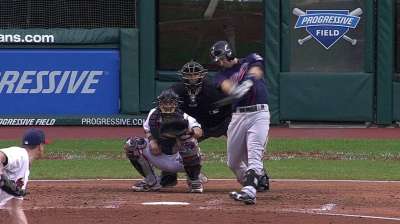 CLEVELAND -- A sixth-inning dinger from Brian Dozier didn't propel Minnesota to a win on Friday night, but it did give the club six straight games with at least one home run.
And after home runs by Joe Mauer, Oswaldo Arcia and two from Chris Parmelee on Saturday, that streak reached seven games.
Overall, there have been 14 homers in the span, during which the Twins are 4-3. Through 71 games this season, Minnesota has gone deep in 43 of them. When at least one ball goes over the fence, the Twins are 25-18.
"You just hope you can continue the pace," manager Ron Gardenhire said before Saturday's 8-7 defeat. "I'm not up there looking for home runs every night, which are always nice. But I just want consistency, and hopefully we'll be able to do that more than anything else. Consistency up and down the lineup."
Minnesota hit seven home runs during a three-game sweep of the White Sox earlier this week. Saturday's loss marked the first for the Twins in a game where they launched four big flies.
They're 3-1 when homering four times, 1-1 when homering three times, 6-3 when homering twice and 15-13 when homering once, like Friday's series opener.
"Last night didn't look very good, but we still hit a homer. We only scored one run, had five hits," Gardenhire said Saturday. "At home, it worked nice. We put the ball in the seats, and we were swinging good. You got to carry it over. I mean, last night was pretty blah."
Mark Emery is an associate reporter for MLB.com. This story was not subject to the approval of Major League Baseball or its clubs.