Giants win in 11th after Zito's clutch start
Giants win in 11th after Zito's clutch start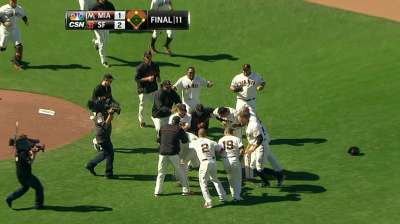 SAN FRANCISCO -- When Barry Zito was just a kid, his father, Joe, built a mound for him in the family's backyard as a way for Barry to master his craft. Although the mound Zito pitched on Saturday was at AT&T Park in front of thousands of fans, what his late father had helped build was on full display.
Pitching with a heavy heart after Joe died at age 84 on Wednesday, Zito commanded the strike zone most of the afternoon. He tossed seven innings and allowed just one run -- a home run to Ed Lucas, the game's second batter who went 3-for-4 -- and gave the Giants the opportunity to win.
"I just tried to minimize distractions and take the mound regardless of what it is," said Zito, who added that he did not want to discuss his loss at length. "Some things are a little heavier than others."
It took until the 11th inning, but the Giants ultimately won, 2-1, on a walk-off when Hector Sanchez's pinch-hit, bases-loaded blooper landed in short left field to score Gregor Blanco.
Blanco dove safely into first base to lead off the 11th with an infield single. Buster Posey reached on an infield single of his own after Marco Scutaro's sacrifice bunt. Hunter Pence was intentionally walked by Ryan Webb to set up Sanchez's heroics.
In the previous half-inning, Pence made what manager Bruce Bochy called a catch "that saved the game for us" when Marlins third baseman Placido Polanco lined the ball to short right field. Pence moved in a few steps before diving to make the two-out snag and prevent Marcell Ozuna -- the Marlins' hero the past two days -- from haunting the Giants again.
"[Polanco] is really good at hitting the soft liners that way," said Pence, explaining why he was playing right field a bit shallower than usual.
Zito fell into trouble with his pitch count early on a day Bochy said he wanted to avoid a taxed bullpen as long as possible, but he was efficient in his final five innings. He entered the third inning having labored through consecutive 24-pitch frames, but cruised through the next five innings and finished with 112 pitches.
"He made excellent adjustments early," Bochy said. "He was up and missing some stuff but he's a tough competitor and gave us a great outing. It's what great starters do."
After Lucas' first-inning home run -- the first of his career -- only one runner reached scoring position against Zito the rest of the afternoon. The Marlins mustered just six hits and walked twice (once intentionally) against him.
"I went out there today and was able to keep my stuff down for the most part and keep the fastball down and keep the cutter down, and the guys played some great defense behind me," Zito said.
Once Zito retired Jeff Mathis with a flyout to end the seventh, his day was finished and the home fans offered their appreciation with a standing ovation that fit the occasion as Zito sauntered back to the dugout. It was another fine start at home for the left-hander this season -- he has a 1.98 ERA at AT&T Park in 2013 -- but this one came under extraordinary circumstances.
"There's nothing tougher than what he had to go through and to come out there with that focus is impressive," Bochy said.
The Giants did not provide any run support for Zito off Marlins starter Jacob Turner until the fifth, when Juan Perez sparked the offense with a leadoff double. He nearly scored when Zito dropped a safety-squeeze bunt with one out, but Turner was able to flip the ball to catcher Mathis for the out.
With two outs, Blanco nearly hit San Francisco's first home run of the homestand, but the ball dropped on the warning track in front of the 421-foot mark in right-center field and took a large hop, where a fan in the arcade section grabbed it. First-base umpire Mark Wegner ruled Zito would have scored on the play -- the first time the pitcher could remember seeing a ball one-hop into the arcade section. Home-plate umpire Mike Winters, not seeing the fan interference, initially awarded Blanco third base, but summoned him back to second once he realized what Wegner had called.
Turner, the prized acquisition in last summer's Anibal Sanchez trade with Detroit, threw only 83 pitches in seven masterful innings as he kept Giants hitters off balance with his high velocity and breaking pitches. In his five starts since being called up from Triple-A New Orleans, Turner owns a 1.97 ERA in 32 innings.
"Their guy pitched a great ballgame and we did not do a lot against him," Bochy said.
With a runner on base and Marlins slugger Giancarlo Stanton at the plate, Bochy handed the reins over to closer Sergio Romo in the eighth inning for just the second time this season. Romo struck out Stanton -- a quiet 2-for-13 this series -- on a slider to end the threat. He pitched 1 2/3 scoreless innings, and Sandy Rosario pitched the final 1 2/3 innings and did not allow a run to secure the win.
The win snapped the Marlins' nine-game winning streak at AT&T Park as the Giants avoided falling to .500 this late in the season for the first time since 2008.
"It's one of those exhausting games and a much-needed win," Bochy said. "It's good for these guys. They're fighting."
Andrew Owens is an associate reporter for MLB.com. Follow him on Twitter @OwensAndrew. This story was not subject to the approval of Major League Baseball or its clubs.