Home runs knock out Miller, Cardinals
Home runs knock out Miller, Cardinals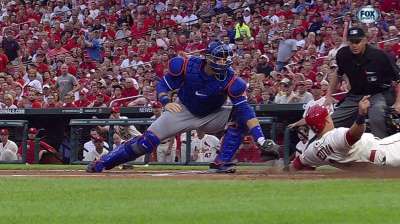 ST. LOUIS -- It didn't take long for the Texas Rangers to get acquainted with Cardinals starter Shelby Miller.
Making his first start against a Rangers team he grew up watching, Miller surrendered two first-pitch homers, and they were all the Rangers needed to come out on top Saturday night.
After a one-hour and six-minute rain delay at the start of the game, the Cardinals fell, 4-2, in a second straight loss to their 2011 World Series foe in front of 44,651 fans at Busch Stadium.
"This is a good, well-balanced team," Cardinals manager Mike Matheny said. "If we continued to play them, we would continue to see close games like we have. … We don't enjoy being on the losing end. We think that we can be on the other side. They had some guys put some good at-bats together today."
Miller struck out two in a perfect first inning, but he was hit for a double and then a 376-foot homer in the second as A.J. Pierzynski took him deep on the first pitch of his at-bat.
"When you throw one right down the middle, it's easy to hit any kind of fastball, it doesn't matter how hard it is or how soft it is," Miller said. "You just got to tip your cap to an offensive lineup like that. They're a good team over there, and you can't make too many mistakes with them."
The Cardinals tied it up at 2 in the second when David Freese knocked a triple off the wall and reached home on a sacrifice fly from Shane Robinson. But Miller served up another two-run homer on another first pitch, this time to Nelson Cruz, in the third.
While they didn't come away with any other runs, the Rangers hit Miller six other times and only grounded out once in 25 at-bats against the rookie right-hander.
"You're going to get a lot of fly balls with a power-hitting team," Miller said. "The middle of the lineup over there really doesn't get the ball on the ground. They're going to hit balls hard. I got away with a couple more tonight that potentially could have been worse."
Miller ran into trouble again in the sixth when he walked one batter, allowed a single and then let opposing starter Martin Perez reach on a bunt when his throw to first was off the mark. With two outs and the bases loaded, Seth Maness relieved Miller and secured the final out.
"It just got to the point where he needed help," Matheny said. "[Miller] was a little fatigued as he was getting close to 90 [pitches], but he still had something in the tank. But it was a great opportunity to get him some help, especially him being down a couple runs at that point."
The two homers were the seventh and eighth on the year for Miller, and it was the third time he's given up multiple home runs in a game this season. He also walked one batter and struck out five in 5 2/3 innings.
In his second start of the season, Perez effectively handled the dangerous Cardinals lineup, limiting St. Louis to two runs on five hits and one walk in seven innings. Perez is the second straight Rangers lefty to give the Cardinals trouble. St. Louis entered the game hitting .233 (143-for-614) against left-handers for the season as opposed to a .289 average against righties.
"We definitely talked about those numbers," said Rangers manager Ron Washington. "The numbers say what's happened, but every day you play the game, you never know what will happen. Perez did a great job."
"I don't think there's really much there except we're facing guys who are making good pitches on us," Matheny said. "You look at the career numbers of our guys for the bulk of our lineup, they hit lefties extremely well. You just go through times where it doesn't happen how you want it to."
Relievers Maness, Kevin Siegrist and Michael Blazek combined to pitch 3 1/3 scoreless innings. Blazek made his Major League debut on a night when all four Cardinals pitchers were rookies. Blazek, who acknowledged having jitters that went away after his first pitch, struck out his first two batters and induced a groundout from Ian Kinsler in the ninth.
"I tried to just picture throwing back in [Triple-A] Memphis or [Double-A] Springfield," Blazek said. "It's something you've been dreaming of for like 15, 16 years, as soon as you start playing. It's something I'll never forget."
St. Louis struck first with one run in the first inning as Allen Craig drove home Carlos Beltran with a two-out single. Craig has 21 RBIs in June, the most he's had in one month while in the Majors. He pushed 20 runs across in September last year.
Yadier Molina's 0-for-4 performance dropped his batting average to .358 as he fell behind Detroit's Miguel Cabrera, who reclaimed the Majors' best average at .368.
Chad Thornburg is an associate reporter for MLB.com. This story was not subject to the approval of Major League Baseball or its clubs.