Dodgers tab Capuano to start Sunday on short rest
Dodgers tab Capuano to start Sunday on short rest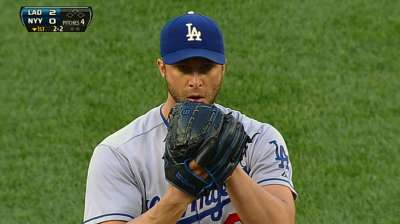 SAN DIEGO -- Chris Capuano will start for the Dodgers on Sunday on short rest, manager Don Mattingly confirmed on Saturday.
It will be the first time Capuano will be pitching on three days' rest since 2005, before he underwent two Tommy John surgeries.
He's also been on the disabled list twice this year -- in April for a strained calf muscle and most recently with a strained lat muscle.
"Obviously, there's a sense of urgency there," Mattingly said of Capuano offering to pitch. "He sees we're not putting wins on the board, and he want to change it. I like the fact he wants to do it. I still wouldn't do it unless everybody thought it was OK and everybody checked off."
Capuano came off the DL to start Wednesday against the Yankees, throwing six scoreless innings and feeling well enough after making 83 pitches to volunteer to pitch Sunday.
"I felt like he was our best chance," Mattingly said of the Capuano decision. "From the day he pitched the other day, he felt it was one of his easiest starts. If we called somebody up and got five innings, we'd have been happy. We're confident we're not taking any chances with him. He's confident we're not taking any chances.
"For me, I was a little bit leery about it. Rick [Honeycutt, pitching coach] said he doesn't feel like we're taking any chances. I was worried about the elbow, but [Capuano] said he's not worried one bit."
The Dodgers needed a starter for Sunday, which would have been Hyun-Jin Ryu's game. But Ryu's start in New York was delayed a day by rain, and the club doesn't want him pitching on three days' rest.
Mattingly said Matt Magill, who had been called up to replace injured starters twice this year, was not under consideration for the start. Magill came out of his last start for Triple-A Albuquerque with forearm stiffness and was placed on the DL on Saturday.
The other Albuquerque pitcher being considered was Matt Palmer.
Ken Gurnick is a reporter for MLB.com. This story was not subject to the approval of Major League Baseball or its clubs.