Pagan 'back to zero' with hamstring injury
Pagan 'back to zero' with hamstring injury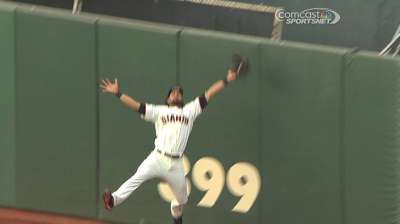 SAN FRANCISCO -- Injured Giants outfielder Angel Pagan indicated Saturday that he would meet with a doctor soon to evaluate his options following a setback in Thursday's Class A rehab appearance.
Pagan, absent from the Giants lineup for nearly a month now, said the aggravation of his left hamstring injury is "worse" than the original injury itself. To deal with the latest holdup to his return to the lineup, surgery, which would sideline Pagan for six to eight weeks, is an option.
"It's going back to zero," Pagan said of the setback. "It depends now on what my options are. I could rest it for a while or take an option that would keep me out of the lineup for a few more weeks. ... That's why I want to see a doctor. If he advises me to get rid of the problem [with surgery], then that's what I'll do."
Pagan's MRI showed a slight tear in the area right above his left knee. He said he aggravated it in a "freak" play when running out of the batter's box.
"It was that aggressive moment that you can't prevent," he said. "Game speed only happens in the game. When you're playing, the intensity and adrenaline is so high that the aggressiveness is there."
Pagan said all he can do for now is rest and that sleeping gives him the most difficulty, because he has problems moving from side to side and could easily tweak it.
"I depend on my legs and have a big responsibility for this team," he said.
Andrew Owens is an associate reporter for MLB.com. Follow him on Twitter @OwensAndrew. This story was not subject to the approval of Major League Baseball or its clubs.