Torres available off bench despite bruised knee
Torres available off bench despite bruised knee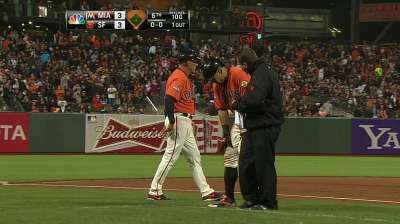 SAN FRANCISCO -- Giants manager Bruce Bochy said reserve outfielder Andres Torres is "day to day" after bruising his right knee in Friday's loss to the Marlins.
Torres left the game after hitting his right kneecap hard against the dirt when he dove into third base while trying to stretch a double into a triple. X-rays were negative.
"He's sore," Bochy said Saturday. "He's got some swelling. He could be ready to pinch-hit in today's game after treatment."
Torres, who entered Saturday hitting .270 with two home runs and 15 RBIs in 60 games, said Friday night that he feels added pressure to return to the field quickly for a Giants club that is battling several injury issues right now.
Juan Perez, who replaced Torres in Friday's game, started in center field with Gregor Blanco in left field.
Andrew Owens is an associate reporter for MLB.com. Follow him on Twitter @OwensAndrew. This story was not subject to the approval of Major League Baseball or its clubs.