White Sox pull ahead in ninth to top Royals in KC
White Sox pull ahead in ninth to top Royals in KC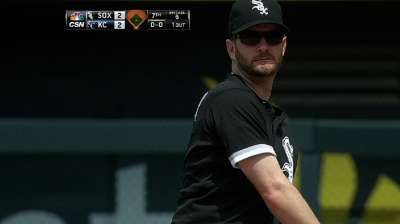 KANSAS CITY -- Addison Reed was officially credited with a save on Saturday, but it was really Jesse Crain who saved the White Sox.
Indeed, Crain's tenacious pitching in the eighth inning saved Chicago during a 3-2 victory over the Royals at Kauffman Stadium. The game-winner was delivered by Alejandro De Aza with a sacrifice fly in the ninth. But it was Crain's ability to keep the game tied in the eighth that stuck out most.
Even though his defense betrayed him in the eighth inning when an outfield miscommunication resulted in a gift-wrapped one-out triple for Eric Hosmer, Crain saved the day by extending his club-record scoreless appearance streak to 29.
If Crain couldn't be scored on Saturday, then when?
Locked in a 2-2 game, Crain got the first man in the eighth and then saw Hosmer hit a fly ball that right fielder Alex Rios had in his sight and reached in routine fashion. But at the last moment, Rios ducked out of the way. Center fielder De Aza had prematurely called for the ball when it was clearly Rios' play.
"I called for it too early," De Aza said.
The unflappable Crain bailed out De Aza by retiring Salvador Perez on an infield popup. He pitched around cleanup hitter Billy Butler and then fanned Lorenzo Cain. Crain's effort seemed to inspire the White Sox, as they used situational hitting to scratch out the ninth-inning run.
"Luckily, we had Jesse in there," said White Sox manager Robin Ventura. "You make a mistake and you still have a guy who can get you out of it. He has just been tough with guys in scoring position. He's not afraid to throw anything."
Crain wouldn't allow himself to be deflated when he saw a routine out become a triple. The infield was pulled in and Crain went to work.
"No matter what the situation is, I always feel like I'm going to take one pitch at a time and get through it," Crain said. "You just try to make the best pitch you can at that moment."
Crain has been pitching with supreme confidence in his fastball, slider and curve. He'll use any of those pitches in any spot. Crain's ERA ticked down to 0.53, which is tops in the American League among relievers.
"The difference in the game was that we both had the same situation late," Royals manager Ned Yost said. "We both had the [go-ahead] run at third base [with one out]. They executed, we didn't."
Given a chance for redemption after the eighth-inning defensive mishap, De Aza came through. He fouled a tough pitch from closer Greg Holland before delivering the sacrifice fly.
"[Holland] tried to make me chase a couple of pitches," De Aza said. "But I was waiting for a pitch where I could make good contact."
The White Sox got a boost from Jeff Keppinger, who started at second base in Gordon Beckham's spot and reached base four times. Keppinger went 3-for-3 with an RBI and drew a walk in the decisive ninth.
The White Sox (31-41) will go for a series sweep on Sunday while the Royals (34-38) will attempt to snap a four-game losing streak.
White Sox starter Jose Quintana had a creditable outing, allowing two runs over 5 1/3 innings. The bullpen unit of Matt Lindstrom, Crain and Reed got it done the rest of the way.
Chicago didn't do a lot offensively against Royals starter Wade Davis, but came up big in the ninth when Dayan Viciedo opened the inning with a single before Keppinger drew a walk. Ventura allowed Beckham to swing away rather than sacrifice and Beckham got the lead runner over with his fly to the outfield. That put De Aza in position to drive in the winning run with his liner to Jeff Francoeur. Although the Kansas City right fielder has one of the strongest outfield arms in the Majors, he couldn't throw out pinch-runner Jordan Danks at the plate.
"To win these last two games here, against a team that has played us real tough, they're big wins," Crain said. "Hopefully, we can keep this going."
Robert Falkoff is a contributor to MLB.com. This story was not subject to the approval of Major League Baseball or its clubs.