Lagares continues to impress Collins
Lagares continues to impress Collins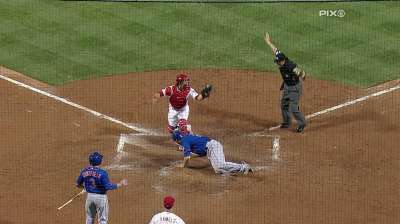 PHILADELPHIA -- The best game of Juan Lagares' 36-game Major League career on Friday night didn't get him into Saturday's starting lineup -- not at all a reflection on his growing stature in Mets manager Terry Collins' eyes.
"Got lefty, lefty, lefty coming up," said Collins. "Lagares will get plenty of playing time the next three days "
The rookie earned it with three hits on Friday, including a two-run double in the sixth. Lagares added a fine running catch on the hardest play an outfielder can make -- a ball directly over his head -- to rob Carlos Ruiz with the bases loaded in the fifth inning.
"Right off the bat, I just tried to go hard," Lagares said. "I go hard to every ball, but I knew that one was over my head. I just tried to go with everything I've got."
It is a play the rookie likely would not have made earlier in the season.
"When Juan first got here, he played a little deeper than he is right now," said Collins. "I think he's getting more comfortable with playing here. He realizes, these guys, even though they're big and strong, there's going to be more balls that land in front of you instead of over your head. So he has moved in quite a bit.
"[Outfield coach] Tommy [Goodwin] has spent quite a bit of time with him to get him to understand that he can go get it over his head. And he's done a good job."
Of course, Lagares' future as an everyday player, in New York or anywhere, will depend upon his bat. Lagares, being fed a steady diet of pitches away, has been working hard in the cage on taking the ball to right field.
Since June 5, he is hitting .326 with six runs scored, five extra base hits and three RBIs.
"He certainly has the skills to be a better hitter, and I believe he will be a better hitter," Collins said. "We are trying to bring these players along. We have to put Kirk Nieuwenhuis in the same boat. Last year, he saved us for two months. We need to get him in there and look at Eric Young to see if he is going to be the guy we leave in that leadoff spot.
"You want to play these guys every day, but there is nothing wrong with trying to get your other guys in there every once in a while."
Jay Greenberg is a contributor to MLB.com. This story was not subject to the approval of Major League Baseball or its clubs.