Struggling Dietrich pressing a bit at plate
Struggling Dietrich pressing a bit at plate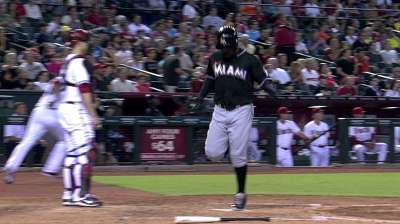 SAN FRANCISCO -- As his batting average has dropped, Derek Dietrich's eagerness at the plate has increased.
The combination is one reason the Marlins' 23-year-old rookie second baseman is mired in a slump. On the road trip, he was 1-for-13 entering Saturday.
With the Giants starting left-hander Barry Zito on Saturday, the left-handed-hitting Dietrich was given the afternoon game off.
"He's pressing a bit," Marlins hitting coach Tino Martinez said. "He's chasing a lot of offspeed pitches. He's just not staying back on the ball. I think, since his average has gone down, he's trying to compensate by trying to hit home runs."
One of Dietrich's strengths is his power. His six home runs already are the most in a season by a Marlins left-handed-hitting second baseman.
"He's like cheating a little bit, trying to pull the ball," Martinez said. "He winds up swinging at balls in the dirt, changeups in the dirt."
Dietrich's average has dipped to .204. Before being called up to the big leagues in early May, Dietrich batted .282 with four homers and 16 RBIs in 28 games at Double-A Jacksonville.
Along with going through a rough stretch, Dietrich also dealt with a sore right thigh after he was struck by a Tim Lincecum fastball just above his knee Friday night. He was taken out of the game as part of a double-switch later in the game, and he was available Saturday.
Martinez notes that getting back on track is a process.
"It's part of the learning process. He will get through that," the hitting coach said. "He's probably never hit .200 before. That's frustrating for any player. You want to get that average up today. You can't do that. You've got to take it one at-bat at a time, and he's trying to do too much in one at-bat."
Joe Frisaro is a reporter for MLB.com. He writes a blog, called The Fish Pond. Follow him on Twitter Share This