Hand it to Brewers: Huge start leads way over Braves
Hand it to Brewers: Huge start leads way over Braves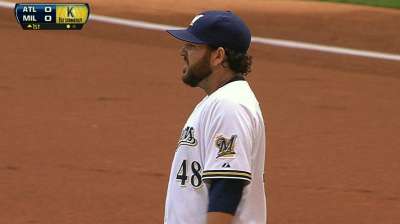 MILWAUKEE -- Brewers manager Ron Roenicke could not have drawn up Saturday's win over the Braves any better than it came out.
Spot starter Donovan Hand pitched a scoreless 4 2/3 innings, the bullpen closed the door and Francisco Rodriguez slammed it shut for his 300th career save in a 2-0 Brewers win at Miller Park.
"I really enjoyed this game," said Roenicke.
Hand made his first career Major League start and despite not lasting into the fifth to earn the win, he exceeded expectations.
"Donovan showed what you can do when you mix up pitches and you're throwing strikes, and how quickly you can get some outs," Roenicke said. "I sure enjoyed what he did. And everybody came in and threw well."
Hand, Burke Badenhop, Michael Gonzalez, John Axford and Rodriguez combined to shut out the Braves for the second consecutive day. The Brewers have not tossed back-to-back shutouts since they blanked the Mets and Pirates on Sept. 16 and 18 last season, respectively.
On the heels of losing two of three to the last place Astros in Houston, the Brewers sealed a series win and a chance to open their six-game homestand with a sweep of the National League East-leading Braves on Sunday. The Brewers have won eight straight games against the Braves at Miller Park after previously losing five in a row.
Hand worked effectively through the first four-plus innings, allowing only two hits, walking one and striking out three. The right-hander, who on Friday said he would be happy with three or four innings pitched, threw 52 pitches, 33 for strikes.
Hand said the Braves' early aggressiveness played to his favor.
"They kind of came out aggressive; they were swinging a lot," Hand said. "Got it deep in the game, gave us a chance to win. That was the main thing; get off to a good start. Get us off to a good start and turn it over to the bullpen when I did."
"We're all very aggressive hitters," Braves first baseman Freddie Freeman said. "He was nibbling and we were going after it still.
"It's one of those things. When you don't face pitchers very often, you don't know what their tendencies are. When you feel you got a little grip on him, he's out of the game and a new one comes in. It's kind of hard to get comfortable and get things rolling against new pitchers all the time."
Badenhop earned the win after relieving Hand in the fifth inning with two outs and runners on first and third. The reliever got Chris Johnson to hit a grounder toward the hole at shortstop, where Jean Segura ranged deep to his right to get a forceout at second base and end the threat.
Segura made another highlight-reel play for the first out of Rodriguez's milestone ninth inning. Jordan Schafer squibbed the second pitch he saw from Rodriguez toward Segura, who charged the chopper and made a barehanded play to beat Schafer by a step at first base.
Rodriguez was closing in place of Jim Henderson, who had the day off, and he did the rest to become the 25th player in Major League history to reach the 300-save plateau.
"It feels great. You have no idea how happy, excited I am right now," said Rodriguez. "I'm blessed to be able to accomplish a nice milestone. Long time; finally it's here."
Hand was just happy to share the same box score as Rodriguez.
"It's unbelievable," said Hand, who was in attendance as a fan for Trevor Hoffman's 600th save at Miller Park in September 2010. "To have my name in the box score with a guy who's got 300 saves, I mean, I don't have words for that. Quite a different feeling being on the field for it than in the stands."
Milwaukee put its first run on the board on a fourth-inning Juan Francisco RBI single off Atlanta starter Tim Hudson. After Carlos Gomez flied out, the rally started with consecutive singles from Aramis Ramirez, Jonathan Lucroy and Francisco, the last plating Ramirez for a 1-0 Brewers lead.
With Lucroy and Ramirez on first and second base, respectively, Francisco sent a sharp grounder up the middle past diving Braves shortstop Andrelton Simmons.
Ramirez added an RBI single in the fifth inning, and Caleb Gindl picked up his first Major League hit as a pinch-hitter in the sixth, before stealing his first bag.
The Brewers were just 2-for-14 with runners in scoring position and left 11 runners on base.
Kevin Massoth is an associate reporter for MLB.com. This story was not subject to the approval of Major League Baseball or its clubs.