Despite Hudson's effort, Braves' bats kept at bay
Despite Hudson's effort, Braves' bats kept at bay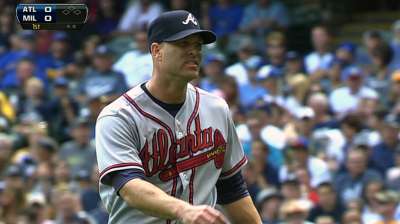 MILWAUKEE -- After dropping a second consecutive 2-0 decision to Milwaukee on Saturday, second baseman Dan Uggla says he knows what the Braves need to do to wake up their anemic offense.
"We've gotta pick up our attitude, pick up our intensity," Uggla said. "I'm not saying we didn't play hard today, or we didn't play hard yesterday, but we've got to pick it up in every aspect. Our pitching's been awesome the last couple days and we've gotten zero run support for them."
Tim Hudson had another solid June start, but the Braves' offense extended its scoreless streak to 24 innings by managing just four hits off five Milwaukee pitchers.
"To get out of a stretch like this you've got to hustle and make things happen," Uggla said. "Positive attitude. Hustle and make things happen. That's the only way you can get out of stretches like this."
The Braves had just two hits in Friday night's 2-0 loss to Milwaukee, so Atlanta manager Fredi Gonzalez used his 60th different starting lineup in just 76 games on Saturday. It didn't help, as B.J. Upton and Andrelton Simmons each had two hits, but the rest of the batters went hitless in 22 at bats.
"We'll keep juggling," Gonzalez said. "It will be 61 tomorrow. I guarantee you."
Milwaukee's Francisco Rodriguez pitched the ninth for his 300th save, becoming only the 25th pitcher in history to reach that total.
The Braves have lost five of six, and they have scored just 12 runs in that stretch.
"When we do hit the ball, it's at somebody or somebody makes a good play," Gonzalez said. "That happens. I feel like at any moment, with some of the at-bats that you've seen, we're going to turn that around. Just keep plugging away. Keep pitching. Keep swinging the bats and it will turn."
Hudson (4-7) pitched six innings, giving up two runs on seven hits and four walks while striking out four. The right-hander is 0-3 in June, despite posting a 1.82 ERA over his five starts this month.
"That's baseball," Hudson said. "Unfortunately, sometimes you lose games like that. You have to go out there and keep plugging along, and hopefully the tide starts turning a little bit."
The Brewers, decimated by injuries to their rotation, used five pitchers who normally come out of the bullpen, including Donovan Hand in his first Major League start. The right-hander needed only 52 pitches to get through 4 2/3 scoreless innings before making way for Burke Badenhop (1-3) and three other relievers.
It was the first time the Braves had seen Hand, and Freddie Freeman said that gave the pitcher the advantage.
"When you don't face pitchers very often, you don't know what their tendencies are," Freeman said. "When you feel you got a little grip on him, he's out of the game and a new one comes in. It's kind of hard to get comfortable and get things rolling against new pitchers all the time."
Hand said the Braves were aggressive.
"They were swinging a lot," Hand said. "... I wanted to go three, maybe four [innings] and anything after that was a bonus. Got it deep in the game, gave us a chance to win."
Gonzalez tried to jump-start his offense by running on the bases, but Simmons and Jordan Schafer were thrown out trying to steal second.
"It's tough to sit there on your hands," Gonzalez said of being aggressive on the bases.
Atlanta mounted its only threat in the fifth, getting runners on the corners to chase Hand with two outs, but Badenhop got Chris Johnson to ground out into a fielder's choice to end the inning.
The Brewers strung together three consecutive singles to make it 1-0 in the fourth when Juan Francisco's hit scored Aramis Ramirez from third. Milwaukee made it 2-0 in the fifth on Ramirez' RBI single to score Norichika Aoki from third.
Despite the slump, Gonzalez said his team wouldn't start pressing.
"There's no pressure," Gonzalez said. "This isn't Game 162 or Game 7 of a playoff. It's the middle of the season. You're going to run into these games where you're not going to be able to score runs -- these streaks.
"Come out tomorrow and Paul [Maholm] will give us an opportunity to win the game and we'll swing the bats. It could turn in a hurry."
Joe DiGiovanni is a contributor to MLB.com. This story was not subject to the approval of Major League Baseball or its clubs.