DeJesus pleased with right shoulder recovery
DeJesus pleased with right shoulder recovery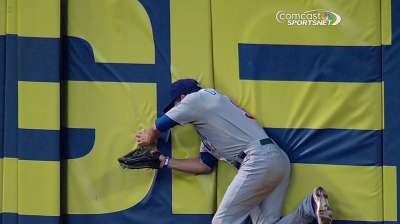 CHICAGO -- David DeJesus says he's making progress in his rehab from a sprained right shoulder suffered in a crash into the outfield wall at Citi Field, and also that his parents' heart rate has calmed down.
DeJesus collided with the center-field wall June 14 trying to catch a ball, but ended up with a sprained right shoulder and was placed on the disabled list the next day. He's replayed the video of his crash a few times.
"It's a pretty good one," DeJesus said. "I can still see it in my head, going through the whole thing. The best part is them trying to cart me off. I said: 'No, I'm not getting carted off the field. I don't need my parents worrying even more about what's happening.'"
His parents were panicked at the time.
"Their heartbeats are back to normal now," DeJesus said.
DeJesus also was happy to avoid surgery after the accident.
"It's going to take its time to heal," DeJesus said. "When it starts getting better, we'll move into baseball stuff. Right now, we're getting more movement and it's a positive thing. It's progressing the right way."
Could he return before the All-Star break?
"We're not putting a timetable on anything," DeJesus said. "We'll see how it goes. It's tough just sitting here watching the games. I understand it's a process and I don't want to go out there and get back on the [disabled list] again. I want it to be healthy enough to go hard and get back out there and grind the rest of the season out with the guys."
Carrie Muskat is a reporter for MLB.com. She writes a blog, Muskat Ramblings, and you can follow her on Twitter @CarrieMuskat. This story was not subject to the approval of Major League Baseball or its clubs.