Cubs squander opportunities as Astros rally for win
Cubs squander opportunities as Astros rally for win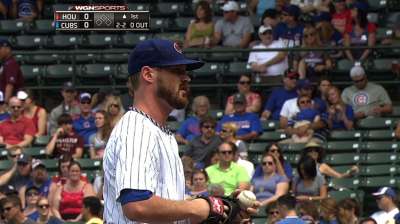 CHICAGO -- Before Saturday's game, Cubs manager Dale Sveum joked that if he didn't have to meet with the media after the game, he might have a chance to see the Blackhawks play the Bruins in Game 5 of the Stanley Cup Finals. As it turns out, the team could've spared him and replayed quotes from past losses.
In what has become a common theme, the Cubs wasted a solid effort by one of their starting pitchers and missed multiple scoring opportunities in a 4-3 loss to the Astros. J.D. Martinez hit a game-tying three-run homer in the sixth and Justin Maxwell scored the go-ahead run on Ronny Cedeno's safety squeeze in the ninth inning to even the Interleague series in front of 38,870 at Wrigley Field.
"It's a broken record," Sveum said. "We can't seem to get that hit to bust the game open in those situations. We get guys on and we just can't get them in."
With the game tied at 3 in the ninth against Kevin Gregg, Maxwell doubled to lead off and moved up on Matt Dominguez's sacrifice bunt. Cedeno then bunted toward first and Maxwell sprinted home with the game-winning run. It was only the fourth time in 25 games that Gregg has allowed a run.
The Cubs had a chance to pull ahead in the eighth. With one out, Alfonso Soriano doubled and Anthony Rizzo was intentionally walked. Soriano was then picked off at second on a close play, although it appeared that he got his hand on the base before the tag. Second-base umpire David Rackley called Soriano out. The Cubs disagreed.
"I know it's not an easy job they have, but when I get mad at something they call, it's because I'm 100 percent [sure] I have the right call," Soriano said. "I knew I was safe. It's part of the game. I have a lot of respect for the umpires. He called me out and I got mad because I knew I was safe.
"It's a bad call, but I have a lot of respect for the umpires," Soriano said. "It's not an easy job."
The Cubs then loaded the bases and Darwin Barney thought he had drawn a walk on a 3-1 pitch, but home-plate umpire Phil Cuzzi called a strike. Jose Cisnero then got Barney to fly out to center to end the inning.
"Soriano is safe at second, so there's a run, and the guy's throwing the ball all over the place and Barney takes a 3-1 pitch and it's eight inches inside, and instead it's a popup and an out," Sveum said. "It's a shame."
Sveum did argue the play at second. He also checked the replay.
"He said he was right," Sveum said of his conversation with Rackley.
"Sometimes, when a team is struggling, like the 3-1 [pitch] to Barney, it's on the line, and not a good pitch, and it's close to a strike, but not a strike -- it's not a good game for us," Soriano said. "I hope tomorrow we can win and forget about today."
Nate Schierholtz set a career high with his 10th home run for the Cubs, who are now 7-3 against American League teams this year.
Travis Wood picked up his 14th quality start, most in the Major Leagues, but the lefty couldn't snap a personal three-game losing streak. Besides serving up the home run to Martinez, Wood missed a chance to help himself by going 0-for-2 with runners in scoring position. He wasn't alone.
Welington Castillo singled to open the third and was safe at second when Barney hit a grounder to Dominguez, whose relay to Jose Altuve at second was high. Barney was safe, as well. Catcher Carlos Corporan tried to pick off Castillo at second, but his throw hit Castillo and caromed into center as both Castillo and Barney advanced on the error. After Wood grounded out, Luis Valbuena drove in both with a single to center.
Starlin Castro singled and Schierholtz walked to load the bases, but Bud Norris escaped as he got Soriano to line out and struck out Rizzo on three pitches.
Wood, who has seven RBIs, struck out in the fourth on a missed bunt attempt to strand two more runners, but Schierholtz delivered in the fifth, hitting a 2-0 pitch over the right-field wall.
With two outs in the top of the sixth, Altuve and Chris Carter hit back-to-back singles and Martinez launched the first pitch over the left-field bleachers to tie the game at 3.
"[The pitch] was supposed to be back door and ended up coming all the way across the plate, and that just can't happen," Wood said. "It falls back on me not being able to execute the pitch at that point. ... He was coming out hacking, and he did what he was supposed to do and I didn't do what I was supposed to do."
Wood walked Dominguez to open the seventh and was pulled. Cubs starters now have posted quality starts in seven of the last nine games, and have won five of those nine games. The team also is 1-for-16 with runners in scoring position over the last four games, and batting .167 with runners in scoring position in the last 15.
"The whole year has been like that," Soriano said. "We don't get the big hit when we need it. It's a little frustrating, but we have to forget this game today and come back tomorrow and win the series."
Carrie Muskat is a reporter for MLB.com. She writes a blog, Muskat Ramblings, and you can follow her on Twitter @CarrieMuskat. This story was not subject to the approval of Major League Baseball or its clubs.