Ventura believes Brett will succeed as coach with KC
Ventura believes Brett will succeed as coach with KC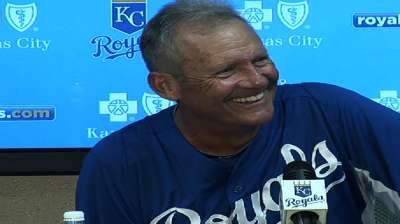 KANSAS CITY -- If Royals legend George Brett decides to shed his title as interim hitting coach and remain in that role for the long term, White Sox manager Robin Ventura can envision Brett flourishing in the job.
Brett has said he would re-evaluate his situation after a month. He took over as Royals interim hitting coach on May 30.
"I've talked hitting with him before," Ventura said. "It's not like he can't teach it. He just hasn't done it every day like he has to now. That gap will close the more he's doing it."
Ventura said his philosophy on hitting is similar to what Brett believes in.
"He understands there are different ways to do the same thing," Ventura said. "I don't see him not being good at doing this."
Robert Falkoff is a contributor to MLB.com. This story was not subject to the approval of Major League Baseball or its clubs.