Rays' defense much improved from last season
Rays' defense much improved from last season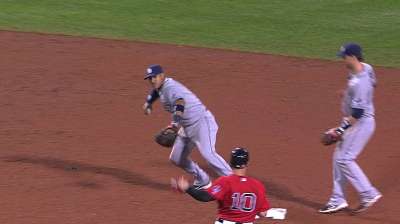 NEW YORK -- Heading into Saturday afternoon's game against the Yankees, the Rays had made just 31 errors, less than half their total (63) through 74 games one year ago.
"Overall, I think we've been playing very nice defense," Rays manager Joe Maddon said. "[James] Loney continues to make great plays at first base, [Evan Longoria] at third, [Yunel] Escobar [at shortstop]."
Led by 2012 Gold Glove Award winner Jeremy Hellickson, Rays pitchers have made just one error, which tied them with the D-backs for the fewest in the Major Leagues. And Rays outfielders have made only three errors. Only the Twins and the Orioles outfielders have committed fewer errors, with two.
Wil Myers was the Rays' DH on Saturday, but Maddon noted that the rookie has fit in well in the team's outfield.
"Going back to Spring Training, at that time, I was really just looking at [Myers'] bat, but at that time I liked everything else," Maddon said. "And we kept talking about trying to breed or grow a more complete ballplayer. And I think he listened. It's very similar to what we did with Matty Joyce a couple of years ago. I'm comfortable with him out there. He listens and positions himself well. He throws fine. Everything seems to be pretty good. He could be a really good outfielder, not just OK."
Through Friday night's game, the Rays had made only 10 errors in their last 29 games and have not had a multi-error game during that span. The streak of 29 straight games without a multi-error game is the longest current stretch in the Major Leagues.
Bill Chastain is a reporter for MLB.com. This story was not subject to the approval of Major League Baseball or its clubs.