Werth late scratch with flu
Werth late scratch with flu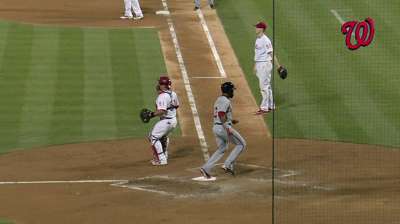 WASHINGTON -- After driving in four of the Nationals' 12 runs during a three-game series in Philadelphia, right fielder Jayson Werth returned home and started slumping.
In his first two games against the Rockies, Werth was 0-for-7 with five strikeouts. He was scratched from Saturday's lineup against the Rockies because of the flu, according to manager Davey Johnson. Roger Bernadina started in right field.
"I didn't see [Werth] during the game. I think he just stayed inside," Johnson said after a 7-1 loss to Colorado. "He told me he had some sort of flu, chills."
Johnson said that Werth's previously strained hamstring is healthy, but that the right fielder has been working with Dr. Keith Pyne to improve his overall strength. The Nationals' skipper also said that Werth needs to make a few mental adjustments to get out of his recent funk.
"I think this game's 90 percent mental," Johnson said. "Anything you do in life, if you have the right mental approach to it, it's easier. I like to see good mental approaches and good, positive attitudes. That's the root of success in any business. Really, in baseball, you can talk yourself into a good hitting streak."
Tom Schad is an associate reporter for MLB.com. Follow him on Twitter @Tom_Schad. This story was not subject to the approval of Major League Baseball or its clubs.