Sox become Scherzer's latest victim in loss to Tigers
Sox become Scherzer's latest victim in loss to Tigers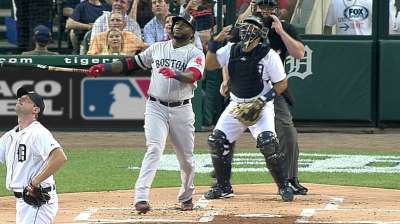 DETROIT -- If only Clay Buchholz's health could have cooperated, Saturday had the potential to match two unbeaten right-handers who could be on the verge of breakout seasons.
But with Buchholz still sidelined, it was up to prospect Allen Webster to try to match up with Max Scherzer.
There might come a time when the 24-year-old Webster can rise to challenges like that. But he isn't there quite yet.
Staked to a quick lead, Webster gave it all back and then some on a night the Tigers walloped the Red Sox, 10-3, in front of 42,508 at Comerica Park.
Webster's third Major League start wasn't the clear success story of his debut or the sheer disaster that took place in his second outing.
Instead, this one was somewhere in the middle, but not nearly good enough on a night the Red Sox were facing one of the hottest pitchers in baseball in Scherzer.
"Well, the four runs given back in the first inning kind of set the tone for the evening," said Red Sox manager John Farrell. "I thought overall, though, there was a better assortment of secondary stuff. They were able to manufacture the one run in the fourth inning, and in a 5-2 game, he kept us there for the four-plus innings."
There was some early hope for the Sox in the top of the first when they scored twice against Scherzer, the latter run coming on a solo shot by David Ortiz, No. 16 on the season.
But young pitchers can be inconsistent, and Webster handed the lead right back.
The Tigers came out with two singles and a walk to load the bases with nobody out. Webster got a temporary reprieve by striking out Prince Fielder.
Victor Martinez stepped up next and ripped a grand slam over the wall in right for a sudden 4-2 Tigers lead.
"The team did great, gave me a lead, and I went out there, two ground-ball hits and a walk, and I left one over the middle and [Martinez] hit it hard," Webster said. "I was trying to throw the same pitch he swung and missed on. I left it over the middle."
Martinez has put together a stellar career making pitchers pay for that type of missed location.
"I just knew that I hit it good. When I first hit it, I thought for sure I'd get an RBI, but the ball kept going and, thank God, it didn't get caught," Martinez said. "They came in ready in the first inning and scored two runs. It's always big to come right back, especially with Max on the mound. Everybody knows how well he's been throwing the ball. He's always giving us a great chance to win ballgames."
The Detroit right-hander improved to 11-0 with a strong seven-inning performance.
Webster went 4 1/3 innings, giving up eight hits and five runs. He walked two and struck out five, throwing 82 pitches.
On the plus side, Webster induced 21 swings and misses.
"It's really tough when you face a pitcher for the first time and you don't know what the pitches do, even if you see him on video," said Martinez. "That kid has great stuff, man. He really does. He has great stuff, great changeup, great movement with the fastball. He'll be a good pitcher."
To salvage a split in this four-game series on Sunday, things don't get much easier for the Red Sox, as they will face Justin Verlander.
The Tigers increased their lead to 5-2 in the fourth when Austin Jackson notched a single up the middle, scoring Andy Dirks, who opened the rally with a single and a stolen base.
The Sox actually fell out of the game after Webster's exit, which came with one out in the fifth.
With Franklin Morales on in relief, Fielder drew a walk and Martinez followed with an RBI double. Jhonny Peralta's RBI single made it a 7-2 game, and Omar Infante added a two-run homer off Morales in the seventh as Scherzer became the first pitcher to start a season 11-0 since Roger Clemens did so for the Blue Jays in 1997.
"Where we were in the lineup, the lefties coming, I thought it was a chance to hold it right there," Farrell said. "Unfortunately it didn't work out. But in terms of Webster, I thought he settled down after the first inning and pitched fairly effectively."
Morales wound up walking off the mound with a sore shoulder with two outs in the seventh. He could be headed for the disabled list.
As for Webster, the Red Sox hadn't immediately decided if he would hang around for another start in place of Buchholz or head back to Triple-A. The latter scenario seemed more likely.
"Well, we've got to get an arm in here because of the need to go to the bullpen so early [tonight], so that's yet to be determined," said Farrell.
Ian Browne is a reporter for MLB.com. Read his blog, Brownie Points, and follow him on Twitter @IanMBrowne. This story was not subject to the approval of Major League Baseball or its clubs.