Buck leaning toward Garcia for series finale
Buck leaning toward Garcia for series finale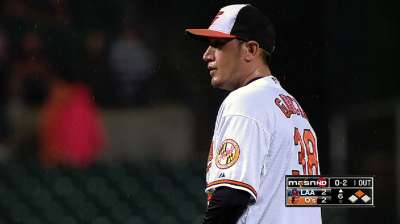 TORONTO -- The Orioles have yet to officially announce their starting pitcher for Sunday's series finale against the Blue Jays, but manager Buck Showalter has an idea of what direction he will go.
"We are leaning toward Freddy [Garcia, on Sunday] and [Zach Britton on] Monday, depending on how we get through [Saturday]," Showalter said. "It could change, but that's where we want to go for both their [sakes]."
If that scenario comes to fruition, Britton would get the ball against the Indians for the start of the four-game set in Baltimore. The left-hander, who threw a side session prior to Saturday's contest, has made two starts this season -- including one since being recalled from Triple-A Norfolk on Tuesday.
Britton threw 5 1/3 innings of one-run ball against the Tigers in his first start since April, recording his first victory since Sept. 4, 2012, against the Blue Jays.
It's not out of the question, however, that Britton could enter in relief for Saturday's contest and still start Monday's game.
"He could pitch today if we needed him," Showalter said.
Garcia, meanwhile, last pitched an inning of scoreless relief vs. Detroit on Wednesday. In 10 games this season, including nine starts, the 37-year-old is 3-4 with a 4.80 ERA. Garcia faced Toronto earlier this season, picking up his first win of the year by throwing five innings of three-run ball on May 25 at Rogers Centre.
Chris Toman is a contributor to MLB.com. This story was not subject to the approval of Major League Baseball or its clubs.