Betancourt, Escalona getting closer to returning
Betancourt, Escalona getting closer to returning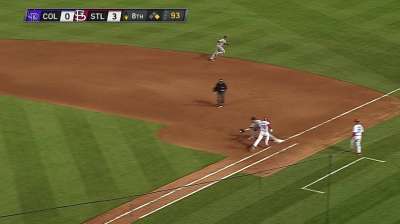 WASHINGTON -- A bullpen strategy that was straightforward and often successful for Rockies manager Walt Weiss has become jumbled because of injuries to relief pitchers Rafael Betancourt and Edgmer Escalona.
Friday night's 2-1 loss to the Nationals illustrated the point. After Tyler Chatwood threw 97 pitches to take the Rockies through the sixth inning tied at 1, a normal bullpen would have meant right-hander Matt Belisle, or Escalona in some cases, were available for the seventh, Belisle and left-hander Rex Brothers for the eighth and Betancourt for the ninth.
Instead, the Rockies went to Manuel Corpas, who hasn't pitched badly, but also hasn't established his role. Corpas (2.00 ERA) gave up just one hit, but it was an Ian Desmond game-winning homer on his third pitch.
Weiss' comfort level will rise soon. Betancourt and Escalona will face hitters in Boston next week, and could return shortly thereafter. Betancourt does not want to spend time in the Minors on a rehab assignment, so he could be back Thursday or Friday. Weiss said the Rockies haven't determined if either Betancourt or Escalona will have a Minor League assignment. Escalona's relative lack of Major League experience, though, may make rehab a more prudent option.
Either way, Weiss will be in position soon to use the bullpen the way he wants.
"It makes it tough when you lose that closer and a guy like Escalona, who was throwing well -- he's more suited for that long role -- but there was enough power that if you needed him to throw the pitch in the seventh or the eighth, he could do that," Weiss said. "They're a couple valuable guys that we're missing right now.
"Your hands are a little tied with Rex when he pitches in that closer's role. There may be a situation late in the game when you'd love to have him, but when you're using him as a closer, you can't fire him earlier in the game."
Thomas Harding is a reporter for MLB.com. Read his blog, Hardball in the Rockies, and follow him on Twitter @harding_at_mlb. This story was not subject to the approval of Major League Baseball or its clubs.