Wells comes off bench to deliver big hit, win for Yanks
Wells comes off bench to deliver big hit, win for Yanks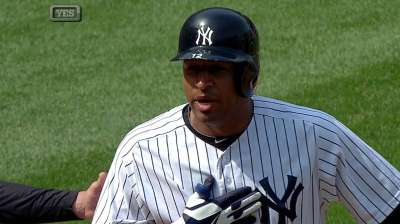 NEW YORK -- Vernon Wells spent the top of the seventh inning Saturday taking swings in the batting cages beneath Yankee Stadium. The Yankees were trailing the Rays by two runs, but the veteran was out of the lineup for the second consecutive day. He was trying to get a bit of extra work in, trying to help himself break out of an extended hitting slump.
In the bottom of the seventh, manager Joe Girardi approached Wells and told the scuffling outfielder to get ready. And when catcher Chris Stewart's turn in the order came up with the bases loaded and two outs, he sent Wells in to pinch-hit.
Wells rewarded his manager's confidence. The outfielder broke out of an 0-for-11 drought in a big way, launching a bases-clearing double to the right-center-field wall and providing the game-winning hit in the Yankees' 7-5 victory over Tampa Bay.
"I get back into the dugout after hitting the double, and Stew looks at me and says, 'You know, I would have hit a homer, but I'll take the double,'" Wells said, laughing.
Wells had just nine hits in his last 89 at-bats entering Saturday's game, and he was hitting .102 in 59 June at-bats. The double was his first extra-base hit since May 31 and his first hit with the bases loaded this season.
"Obviously, we've struggled offensively. That's been well-documented," Wells said. "But in this game, you never know what can happen. You got to keep taking your chances."
The chance Girardi took with Wells helped the Yankees avoid losing a game they led by two runs entering the sixth inning. After Rays third baseman Evan Longoria belted his third home run of the series in the second inning to give the Rays an early 1-0 lead, Yankees outfielder Zoilo Almonte continued his offensive surge and drove in the team's' first three runs of the game to open up a 3-1 lead.
Almonte -- the rookie who has started the past two games in place of Wells in left field -- hit a two-run single to center field in the third inning and drew a bases-loaded walk in the fifth. He finished his second career start 1-for-2 with two walks and three RBIs.
"I feel good so far," Almonte said through an interpreter. "Right now, I'm seeing the ball really well. I just hope it keeps going that way."
Yankees starter CC Sabathia nearly gave the game away in the sixth inning, though. Highly touted Rays prospect Wil Myers reminded the 46,013 in Yankee Stadium that Almonte wasn't the only rookie sensation playing in the Bronx this weekend, hitting a grand slam into the right-field seats -- his first career home run -- to give Tampa Bay a 5-3 lead.
"We had the lead, 3-1, and giving it up -- especially at a time when we have been struggling to score runs -- it's very frustrating," Sabathia said. "We have a 3-1 lead in the sixth inning, I need to be able to go out and hold it down."
His teammates picked him up, though, as New York got all those runs back in the seventh. After Almonte walked to load the bases, rookie David Adams walked to pull the Yankees within one. Then Wells delivered the game-winning hit.
Sabathia exited the game after that inning, allowing five runs on six hits over seven frames while striking out just two and walking two.
"Besides one pitch, he was really good. And this is a team that's given him trouble, so that's probably the frustrating thing for him," Girardi said. "You look up and the line score doesn't look so good. But besides one pitch, he was really good."
The Yankees only recorded seven hits in the game, but they scored their seven runs thanks in part to nine walks handed out by Rays pitchers. Adams drew two walks Saturday after not walking at all over his first 87 plate appearances, and second baseman Robinson Cano recorded a career-high four base on balls.
"The walks kicked our butt today," Rays manager Joe Maddon said. "We just walked too many guys."
Three of those walks came in the seventh inning, but it was Wells' hit that provided the biggest blow to Tampa Bay's chance at a win.
Wells has been working with hitting coach Kevin Long on shortening his swing. He was taking swings against a hard-throwing pitching machine in the batting cages, and he said Long was putting a little extra zip on his pitches during batting practice.
On Saturday -- against Rays reliever Jake McGee and his 96-mph fastball -- the work paid off.
"This game is not easy, and all anybody sees are the results," Wells said. "It was good to hit a ball and have it not land in somebody's glove. And it came at a great time."
Josh Vitale is an associate reporter for MLB.com. This story was not subject to the approval of Major League Baseball or its clubs.