Bautista's homer pushes Blue Jays' win streak to 10
Bautista's homer pushes Blue Jays' win streak to 10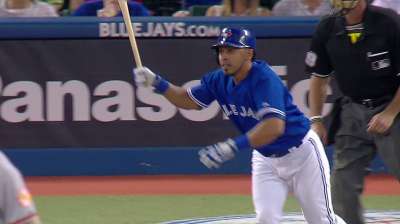 TORONTO -- It didn't take long for Jose Bautista to have the final say in his ongoing war of words with Baltimore's Darren O'Day on Saturday.
A day after the two exchanged pleasantries following a seventh-inning strikeout, Bautista hit a 3-2 offering from the sidewinder over the wall in left field to help extend Toronto's winning streak to 10 games in a 4-2 victory over the O's in front of 43,261 at Rogers Centre.
"I told him to just keep talking like he was [on Friday]," Bautista said, who gestured to O'Day as he came down the third-base line. "He kind of ran his mouth a little bit after he struck me out [on Friday], and I don't know where that came from. I didn't appreciate it, and I let him know that yesterday -- and I gave him a reminder today that I didn't appreciate it.
"I don't have a problem when pitchers celebrate when they get a big out in a big inning. But when you're staring at me yelling stuff and I can't really hear what he's saying, it upset me a little bit."
The Toronto slugger's home run came in a crucial spot for the club, which had just witnessed a rare hiccup by its bullpen. Darren Oliver allowed a home run to O's catcher Taylor Teagarden that tied the game at 2 in the eighth. It broke a streak of 28 consecutive innings in which the Blue Jays' bullpen didn't allow an earned run.
Baltimore starter Miguel Gonzalez allowed a single to Munenori Kawasaki after retiring the first batter in the eighth, and was replaced by O'Day.
O'Day got Rajai Davis to ground into a forceout at second, leaving the speedy outfielder at first for Bautista.
The 32-year-old worked his way into a hitter's count, 3-1, before taking O'Day deep two pitches later.
"I wasn't too concerned about that [O'Day stuff]. I was just concerned about having a good at-bat for the team and trying to make something happen," said Bautista, who now has 16 home runs on the season. "After I got to two strikes, I was just trying to get a pitch to hit. It was three balls and two strikes, I didn't change anything. Just trying to keep my swing short, look for something elevated, because he keeps the ball down pretty well. I was lucky that he kind of threw that out of the strike zone ... and I was glad I was able to capitalize on that."
"Every at-bat against him is a tough at-bat," said O'Day, who didn't comment on their exchange after the game. "I made a terrible pitch. If I make a good pitch, he's probably out."
It was their interaction as he crossed the plate, where Bautista mimicked talking with his hands that reignited the thoughts of Friday's incident. But it's nothing that the Blue Jays' right fielder expects to carry over into Sunday's series finale.
"I don't think anybody here is interested in creating any rivalries," Bautista said. "We're concerned about winning the next game, and we're going to keep our focus on that."
"Those things happen in baseball all of the time," added Blue Jays manager John Gibbons. "[When] you get out there in the heat of the competition at this level of baseball, that's not necessarily unusual."
Bautista's home run changed the complexion of a ballgame that was a very tight and defensive affair heading into that eighth inning.
Before that critical frame, the Orioles and Blue Jays were locked in a 2-1 contest, with both starters putting together good outings.
For Toronto, it was Chien-Ming Wang, in his third start for the club, who turned in his most impressive start.
Wang held the powerful Baltimore lineup to a single unearned run over 6 1/3 innings, with a lot of his success coming by keeping the ball on the ground. He recorded 11 outs on the ground, compared to two in the air.
"That's three really good ones," Gibbons said of his starter. "He shut down a really good hitting team. I know he feels good, he's a part of it now and he has given us a big boost, that's for sure."
Helping him out was the defense, which made a series of nice plays behind him. Edwin Encarnacion robbed Manny Machado of what would have likely been his 34th double of the year in the sixth, with a diving play at first. Melky Cabrera saved a run in the second by snaring a sinking liner, while Wang contributed by converting a double play off a comebacker.
The one man that Wang couldn't control was Chris Davis, who reached base in all of his at-bats against him, and scored the lone run on a fifth-inning single by Travis Ishikawa.
However, just like in the eighth, the Blue Jays were quick to respond to an Orioles run.
In the bottom half of the fifth, Maicer Izturis hit the first pitch he saw from Gonzalez and powered it over the fence in right field to give the Blue Jays a 2-1 lead.
That score would hold up until the dramatic eighth inning.
With the win, the Blue Jays are now one shy of the club record for consecutive victories, a mark that was accomplished twice, in 1989 and 1998.
"We're playing good baseball, things are going our way," Gibbons said. "You have to have that when you go on winning streaks. But we're doing a little bit of everything. We're pitching well -- starters and the bullpen. Timely hitting ... it's fun to watch, fun to be a part of, fun to manage."
Evan Peaslee is an associate reporter for MLB.com. This story was not subject to the approval of Major League Baseball or its clubs.