Haren endures another rough outing in loss to Rox
Haren endures another rough outing in loss to Rox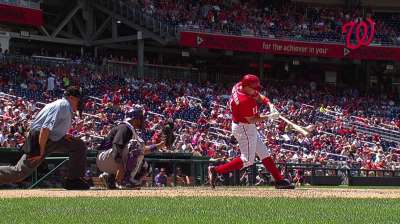 WASHINGTON -- When Nationals pitching coach Steve McCatty walked to the mound in the fourth inning to try to calm down Dan Haren, the crowd of 35,787 at Nationals Park cheered because they thought the starter would soon be leaving the game.
When manager Davey Johnson did just that one batter later, Haren exited to a chorus of boos.
"I'd probably boo myself, too," he said.
The Nationals signed Haren to a one-year, $13 million contract in the offseason, and that move hasn't worked out well. The right-hander gave up six runs on seven hits over 3 1/3 innings en route to a 7-1 loss to the Rockies on Saturday afternoon. He struck out five, but also hit one batter and threw two wild pitches, one of which allowed a run to score.
"I'm a little concerned about him," Johnson said. "I'm going to have a talk with him next time he throws and see if we can't do something to make things better for him. I don't want to speculate on what I'm thinking about right here, but we have some concerns."
Haren hung his head as he walked off the field with a 6.15 ERA, the highest in the Majors among qualified starters.
He has allowed four or more runs in four straight starts and hasn't won since May 9, which might force the Nationals to look for other options at the back of their rotation.
"I've never gone through this stuff in my career," Haren said. "It's definitely a battle to stay confident. There's self-doubt that obviously creeps in for everybody whenever they're not doing well, and obviously I've been struggling for a while now."
Haren gave up a solo homer to DJ LeMahieu on just his fifth pitch and never fully recovered. After 13 pitches, the Rockies had three hits and a 2-0 lead. Corey Dickerson made it 3-0 with a two-out RBI double, the first hit of his Major League career.
After retiring the Rockies in order in the second and third innings, Haren unraveled in the fourth. He gave up a single and a double before allowing Wilin Rosario to score on a wild pitch. Then the right-hander plunked No. 8 hitter Josh Rutledge and gave up an RBI single to pitcher Jhoulys Chacin. Haren left with the Nationals trailing, 6-0.
"That's what's been so perplexing, I guess is I'll have spurts where it almost seems easy and then there's spurts where I can't get anybody out," he said. "At this point, it's just still searching for ways to get better."
"It seems like bad luck right now," first baseman Adam LaRoche added. "You can be that good, still strike out a bunch of guys, and any time you miss, it's getting hit."
As their starter struggled, Washington's offense followed suit. After scoring enough runs to win three straight, the Nationals could only generate six hits against Chacin. Ryan Zimmerman hit a solo home run in the ninth, but he was the only baserunner to advance past second base.
Chacin pitched seven scoreless innings to improve to 6-3 this season.
"It was another great outing by Jhoulys," Colorado manager Walt Weiss said. "He was in control of the game. He used his secondary stuff really well."
Haren has usually had pinpoint command during his 10-year career, which includes three All-Star appearances, but Johnson said that the 32-year-old has consistently left pitches up in the zone. Haren's cutter has been flat and his signature pitch, a split-finger fastball, has been largely ineffective.
He was replaced by another veteran, Ross Ohlendorf, who impressed Johnson with a spot start in Colorado to earn a place in the bullpen. Ohlendorf surrendered a solo home run to Nolan Arenado in the eighth, but he was otherwise stellar in his first relief appearance of the season.
"I think he hadn't pitched in about eight or nine days, but he threw the ball great," Johnson said. "He saved my 'pen, so that was a big boost."
The Nationals had won three straight to pull within five games of the Braves in the National League East. They could've compiled a four-game win streak for the first time since early May. But now the team, like its struggling starter, is still searching for a spark.
"I wish I had more answers," Haren said.
Tom Schad is an associate reporter for MLB.com Follow him on Twitter @Tom_Schad. This story was not subject to the approval of Major League Baseball or its clubs.