Chacin cruises in DC as Rockies halt slide at five
Chacin cruises in DC as Rockies halt slide at five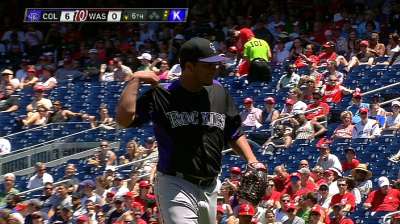 WASHINGTON -- Batting practice is a happy time for a club. There are no slumps. Even pitchers feel like sluggers. So Rockies right-hander Jhoulys Chacin decided to carry a taste of batting practice into Saturday afternoon's game at Nationals Park.
After asking the permission of manager Walt Weiss and obtaining the blessing of some of the other team leaders, Chacin determined that the club would wear batting practice jerseys instead of one of the game tops. The Rockies then slugged their way to a 7-1 victory in front of 35,787.
"We always hit in BP, so I wanted to see what would happen -- stop it [the streak] right here," said Chacin (6-3), who not only picked the wardrobe, but held the Nationals scoreless for seven innings, on five hits with three strikeouts.
It's not clear if Chacin's fashion choice had anything to do with it, but a Rockies team that scored a total of seven runs while losing the first five games of its trip came alive.
DJ LeMahieu hit his first home run of the season and finished with three hits to improve to 9-for-21 for the trip. Callup Corey Dickerson doubled twice in his Major League debut. Nolan Arenado homered for the sixth time this season, and first time since June 7.
One person who didn't need a change of fashion was Michael Cuddyer, who singled home a first-inning run to reach base for his club-record 38th straight game and extend his hit streak to 20 games, three shy of current hitting coach Dante Bichette's team record (May 22-June 18, 1995).
"I see a lot of smiles in the clubhouse, which is nice," Cuddyer said.
The Rockies began with a different look and finished with a fresh outlook.
Friday night's 2-1 loss dropped them below .500 for the first time since Opening Day. But by pounding out 12 hits in Saturday's victory, the Rockies climbed to 38-38 and can gain a split with a victory Sunday afternoon. They've not lost a series at Nationals Park since it opened in 2008.
"It's all about winning games," Weiss said. "You don't want to dwell too much on what's happened the previous four or five days or the previous week. You show up the next day and try to win a ballgame."
The Rockies have been stymied by hot pitching from the Blue Jays and the Nationals throughout the trip. They managed two runs in the first two games of the Nationals series against Jordan Zimmermann and Stephen Strasburg. But they scored three first-inning runs off beleaguered Dan Haren (4-9), who was booed off the field after yielding six runs in 3 1/3 innings.
"I've never gone through this stuff in my career," said Haren, whose 6.15 ERA is highest among National League starters eligible to be listed among the leaders. "There's self-doubt that obviously creeps in for everybody whenever they're not doing well, and obviously I've been struggling for a while now."
LeMahieu, whose homer off Haren began a three-run first, has boosted his average from .233 on June 5 to .299.
"It's a lot of fun to go to the plate right now," LeMahieu said.
Carlos Gonzalez doubled and Cuddyer singled him home. With two out in the first, Dickerson lined a pitch into left-center to score Cuddyer and hustled for a double.
Dickerson had led the Pacific Coast League with a .386 batting average at Triple-A Colorado Springs. Cuddyer, being a concerned vet, worried that fans didn't know Dickerson was the new guy.
"I was like, 'Man, a guy gets his Major League debut and nobody knows who it is,'" Cuddyer said, noting that the Rockies' BP tops do not have players' surnames.
Dickerson said, "Uniforms don't matter to me. I was excited to play. After that first at-bat, my nerves were calm. It's great when we win and I'm just glad I can bring energy or whatever I can bring to this team to help out."
Chacin kept the Nationals from gaining any energy.
"Us getting behind three runs in the first inning was a big part of it, and then he just made a lot of good pitches, with both his fastball and his breaking stuff," said Nationals manager Davey Johnson, whose team averted a shutout when Ryan Zimmerman homered off Wilton Lopez in the ninth.
Chacin had a 1.46 ERA before suffering a back strain in April, and labored upon his return. But in his last three starts -- all wins -- Chacin has posted a 1.74 ERA and given up 18 hits in 20 2/3 innings.
"For the first two or three [starts], I was a little bit worried -- 'Just don't get hurt again,'" Chacin said. "But I really feel fine. I don't feel anything."
Suddenly, Chacin and his fellow starters look intriguing.
Sunday starter Jorge De La Rosa is coming off holding the Blue Jays to one run in seven innings. Tyler Chatwood has a 2.22 ERA in eight starts. Roy Oswalt struck out 11 in five innings in his Rockies debut Thursday night, and his command is expected to improve.
"You look at the big picture, overall this year, they've done very well and they're even picking it up as we go along," Weiss said.
Thomas Harding is a reporter for MLB.com. Read his blog, Hardball in the Rockies, and follow him on Twitter @harding_at_mlb. This story was not subject to the approval of Major League Baseball or its clubs.