Harper, Johnson differ on rehab schedule
Harper, Johnson differ on rehab schedule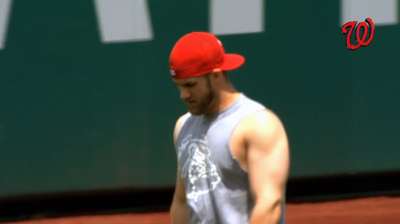 WASHINGTON -- Outfielder Bryce Harper said Saturday that he has no pain in his injured left knee and that it feels better every day. But that doesn't necessarily mean that he's ready to play a rehab game at Class A Potomac on Tuesday, as Nationals manager Davey Johnson had suggested.
"Tuesday, that's kind of early," Harper said. "I'm thinking Wednesday or Thursday maybe. I'm not sure. We'll see how I feel. If I feel good, then I'll go play. If I feel something isn't right, then I'm not going to go play. It depends on how I'm feeling."
Johnson said that's not Harper's call to make.
"When a player starts playing, it's really up to me, what I think they need. Not up to the player," Johnson said. "I'm always trying to do what's best for the player. But at the same time, it's my job to know when they're ready and when they're not.
"He's probably worried about timing and everything being letter perfect. All that changes if you're in Potomac. You may never get your timing there because it's a whole new ballgame there, guys don't have command as well as they do up here, and there's a big variation in how they pitch to guys."
Harper has been on the disabled list since June 1 with bursitis in his left knee. Because this is Harper's first stint on the disabled list, Johnson is concerned that the reigning National League Rookie of the Year is being overly cautious about his rehab process.
The Nationals' skipper said that barring any setbacks, he would still like to see Harper play at Potomac on Tuesday.
"If a guy's going to play and he's not going to injure it any worse, might as well play," Johnson said. "In Harper's situation, that's my concern. Bursitis, it could come back with one slide. It could come back bumping into the wall. But I mean, is it going to get any worse from regular playing? That's the only thing I have concern with."
Harper did some light running and cutting on the field at Nationals Park before Saturday's game against the Rockies. While he has "no pain" in his knee, Harper said that the rest of his body is a little sore from weeks of relative inactivity.
He would like to play six or seven Minor League games and get his timing back before rejoining the Nationals.
"I don't want to come back one game after I play against High-A ball and come back facing [Zack] Wheeler and Matt Harvey or something," Harper said. "I'm not going to face those guys. They'd blow me away right now. That's something I don't want to do. I'm going to play as many games as I can down there, see how I feel, and try and get back."
If Harper does wind up playing six Minor League games, he will most likely play a few games at Class A Hagerstown, where he would be on the same team as his brother, Bryan, for the first time since high school.
Johnson said that players know more about their bodies than the medical staff. If Harper experiences any significant swelling or pain in his knee, the team will alter his rehab schedule.
"It's going to be hard playing at 70 percent if they want me to play at 70 percent," Harper said. "I'm not going to do that. I want to come back 100 percent and get back as quick as I can."
Tom Schad is an associate reporter for MLB.com. Follow him on Twitter @Tom_Schad. This story was not subject to the approval of Major League Baseball or its clubs.