Giants' bullpen struggles in loss to Marlins
Giants' bullpen struggles in loss to Marlins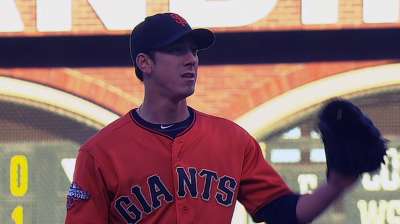 SAN FRANCISCO -- Maybe the pundits who clamor for Tim Lincecum to switch to the bullpen have a point. For example, the Giants probably would have fared better against the Miami Marlins if Lincecum could have cloned himself and served as his own reliever.
That's a fanciful way of saying that San Francisco's bullpen has struggled lately. Giants relievers have absorbed the decision in four of the team's last five defeats, including Friday night's 6-3 setback.
San Francisco's relievers have recorded an ERA of 4.67 in those losses. By itself, that figure is subject to interpretation, since bullpen ERA can be a deceiving statistic. But in these instances, those runs have dissolved late-inning leads or ties.
Manager Bruce Bochy indicated that fatigue has been an issue for his relievers.
"They've been used a lot," Bochy admitted after the Giants' seventh loss in 11 games.
Right-hander Jean Machi has made six appearances in eight days. It's no coincidence that Machi retired none of the three batters he faced during the eighth inning, when Miami scored three runs to shatter a 3-3 tie. Machi surrendered back-to-back RBI singles and an infield hit that generated a run.
Jeremy Affeldt worked his fifth game in seven days in Thursday night's series opener, when he yielded Marcell Ozuna's game-winning, pinch-hit single.
Lincecum gave the bullpen a figurative break, though they've received few actual breaks.
"We've been going to them a lot," Lincecum said. "They've been so outstanding that it's easy to go to them when a starter struggles. I know I've been a culprit to that. It's about taking it upon yourself to go deeper in games."
The absence of Santiago Casilla, the Giants' top right-handed setup man who's recovering from knee surgery, has made an impact. Fortunately for the Giants, Casilla could return before the All-Star break.
"He's a big part that we're missing, there's no doubt about it," said left-hander Javier Lopez.
Even starter Ryan Vogelsong's fractured right pinkie has affected the bullpen, since it forced the Giants to move Chad Gaudin into the rotation. The need for fresh arms has prompted the Giants to summon rookies Jake Dunning and Sandy Rosario from Triple-A Fresno.
"Obviously, we're best when we're at full strength," Lopez said. "It's a war of attrition right now."
With one out in the eighth and the score tied, 3-3, Dunning (0-1) yielded a single to Ed Lucas and hit Giancarlo Stanton with a pitch. Winning a lefty-versus-lefty matchup, Lopez entered the game and fanned Logan Morrison. Then Ozuna sent Machi's first pitch scissoring into right field, scoring Lucas.
Pinch-hitter Greg Dobbs added an RBI single. Adeiny Hechavarria's infield single and shortstop Joaquin Arias' accompanying throwing error accounted for the inning's final run, helping Miami extend its AT&T Park winning streak to nine games.
All but one of Miami's runs scored with two outs.
"We're missing that big out every once in a while," Lopez said. "The big pitch has been eluding us. But we'll be OK."
Lincecum has looked OK in his last four games, recording quality starts in three of them. His ERA in this stretch, which dates back to the groundswell of reports about his possible move to the bullpen, is 2.92. Friday, Lincecum allowed four hits in seven innings, five of which he concluded with strikeouts.
But Lincecum couldn't hold a 3-1 lead as Miami scored twice in the sixth. One strike away from sealing a shutout inning, Lincecum fired a full-count fastball to Morrison, who homered in the second inning. This time, Morrison tripled to center, driving in Lucas. Morrison scored on Ozuna's infield single, a bouncer off the mound that Lincecum partially deflected. Lincecum called his inability to keep Morrison in check "one of the most frustrating parts about tonight."
Lincecum also knocked Marlins starter Ricky Nolasco out of the game with a two-out triple in the sixth. He delivered his only other three-base hit on July 13, 2008, at Chicago's Wrigley Field. Nolasco, who entered the contest with a 4-0 record and an 0.87 ERA in four previous starts at AT&T Park, surrendered three runs and nine hits.
"It was a battle out there," said Nolasco, who frequently has been mentioned in trade speculation involving the Giants. "You're not going to have your best stuff every game. You compete and try to keep your team in the game. I felt like I did that for the most part, whether it was ugly or pretty. Just go out there trying to make pitches. I think I did a good job limiting damage."
Chris Haft is a reporter for MLB.com. This story was not subject to the approval of Major League Baseball or its clubs.