Torres bruises knee on slide vs. Marlins
Torres bruises knee on slide vs. Marlins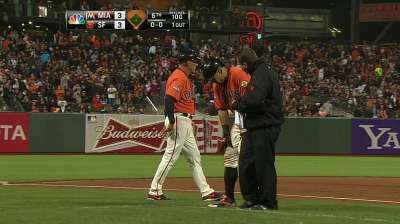 SAN FRANCISCO -- Giants left fielder Andres Torres left Friday's game vs. the Marlins with a bruised right knee after trying to stretch a double into a triple in the sixth inning and is day to day.
Torres said he hit his right kneecap hard against the dirt when he dove into the base, but X-rays were negative. Head athletic trainer Dave Groeschner attended to Torres at third base before the outfielder left the game. Groeschner continued to examine the knee in the dugout.
"It was really sore," Torres said after the game. "I'm going to put some ice on it and see how it feels tomorrow."
Juan Perez replaced Torres, who went 2-for-2 with two doubles and a walk before the injury.
Torres said he feels added pressure to return to the lineup quickly considering San Francisco's current injury issues.
"I definitely [feel it]," he said. "I'm going to come in early tomorrow and see how I feel. I hope I'm good to go tomorrow."
Torres is hitting .270 with two home runs and 15 RBIs in 60 games this season.
Chris Haft is a reporter for MLB.com. Andrew Owens is an associate reporter for MLB.com. Follow him on Twitter @OwensAndrew. This story was not subject to the approval of Major League Baseball or its clubs.