Kershaw unable to solve Padres' riddle
Kershaw unable to solve Padres' riddle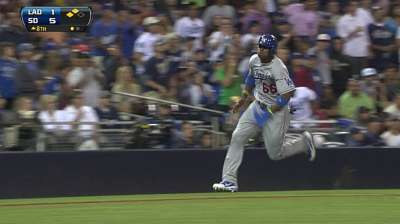 SAN DIEGO -- Clayton Kershaw on the mound, the opposing starter leaves injured after only two pitches and the Dodgers still can't win.
That was the story line Friday night in a 5-2 loss to the Padres that left the Dodgers 12 games below .500 and 9 1/2 games out of first place for the first time this year. They are 9-23 against the National League West and 11-22 on the road.
They are also 4-7 against the Padres, but manager Don Mattingly was brutally honest when asked why San Diego gives the Dodgers so much trouble.
"It's not just the Padres this year," he said.
Kershaw, presumably the club's one lock All-Star, is 5-5 and has gone more than a month without a victory (0-4 in six starts since May 20). The Dodgers have scored only nine runs total in his five losses and he didn't get much defensive help in this game, although all four runs charged in his six innings were earned.
"You control what you can control," Kershaw said. "I can't control wins and losses. I can control not giving up runs. I have to pitch consistently, that's all I can do."
Kershaw bristled when a reporter said fans don't see a sense of urgency in the Dodgers' play, as if they are waiting for injured teammates to return.
"We can't wait," he said. "We've got to play better. It's no fun coming here every day and losing. It's our job, whether it's fun or not. We've got to come here and got to play better, that's all I can say."
He struck out seven and made 102 pitches, losing to the Padres for the third time this year.
"They're battlers, give them credit," Kershaw said. "They've got a good game plan, they make me make adjustments, which I thought I was doing. They beat me tonight, fair and square."
Yasiel Puig was in the middle of what little action the Dodgers had offensively, singling in both innings that the Dodgers scored. He also hit the cutoff man, helping erase a trailing runner for an assist. Hanley Ramirez, swinging a bat nearly as hot as Puig, had an RBI double as the only Dodgers hit with a runner in scoring position.
It appeared that the Dodgers caught a break in the Clayton vs. Clayton matchup when the Padres' Clayton Richard walked off the mound two pitches into the game after feeling pain in the AC joint of his left shoulder.
For the first time in 22 years, the Padres' bullpen recorded all 27 outs, from winner Tim Stauffer's four innings of one-run ball to Tyson Ross' three scoreless innings to Huston Street's 15th save.
Stauffer wobbled early, immediately allowing first-inning singles to Mark Ellis and Puig, then taking an Adrian Gonzalez line drive high off his leg. Stauffer retrieved the carom, threw Gonzalez out and stayed in the game. Ramirez walked to load the bases, but the Dodgers scored only on a groundout by Juan Uribe as A.J. Ellis struck out to end the inning.
Kershaw didn't keep the lead long as Chris Denorfia, San Diego's second batter of the game, took him deep for the second time this season.
The Padres took a 4-1 lead with a three-run third inning in which Elian Herrera, starting in left field because Andre Ethier was resting a sore knee, misplayed two hits.
Herrera, a utility man recalled a day earlier, drew a fielding error on Logan Forsythe's one-out single, with Forsythe advancing to second. Denorfia walked on a 3-2 pitch and Chase Headley shot a bouncer fair by inches over third base and into the left-field corner. Herrera slid on the warning track in foul ground trying to cut the ball off, but it skipped past him and Headley was credited with a two-run triple.
"That one walk, that's how to maximize a walk, and I've got to limit the damage," Kershaw said. "Solo home runs I can deal with, two-run triples I can't. It was just one inning, but that was enough."
Skip Schumaker, moved over from left field to center, got a late break on Kyle Blanks' high fly that dropped in shallow center for an RBI single to score Headley.
"I think we're throwing the whole lineup at him," Headley said of his team's success against Kershaw. "We've having good at-bats. Fortunately, we've been able to get to him a little bit. We've beat him a few times but we haven't beat up on him."
The Dodgers had a chance in the sixth inning when Ramirez walked and Uribe singled with no out, but A.J. Ellis took a 3-2 breaking ball from Ross for strike three and Schumaker bounced into a double play.
San Diego added an unearned run in the seventh inning off Brandon League, who dropped a throw from first baseman Gonzalez for an error. The Dodgers scored in the eighth when Puig legged out an infield single, tagged to second (standing up) on Gonzalez's fly out to the track in right and was doubled home by Ramirez.
Ken Gurnick is a reporter for MLB.com. This story was not subject to the approval of Major League Baseball or its clubs.